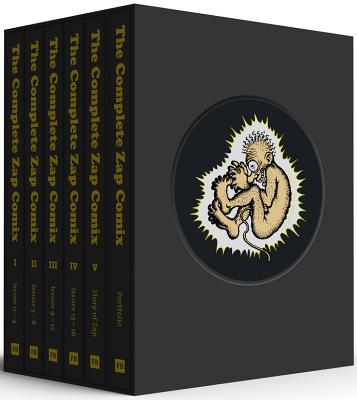 The Complete Zap Comix Boxed Set
Hardcover

* Individual store prices may vary.
Description
This is a more-than-complete collection of the quintessential underground comic book.
There scarcely was an underground comics world before Robert Crumb's classic solo first issue ofZap. By Zap #2, he had begun assembling a Seven Samurai of the best, the fiercest, and the most stylistically diversified cartoonists to come out of the countercultural kiln. All of them were extremists of one sort or another, from biker-gang member Rodriguez to Christian surfer Griffin, but somehow they produced a decades-long collaboration: a mind-blowing anthology of abstract hallucination, throat-slashing social satire, and shocking sexual excess, that made possible the ongoing wave of alternative cartoonists like Daniel Clowes, Chris Ware, and Charles Burns. The Complete Zap Comix collects every issue of Zap — every cover and every story, and even the Zam mini comic jam among the Zap artists — in a five-volume, slipcased hardcover set. Plus, an introduction by founder R. Crumb and an oral history of Zap by Patrick Rosenkranz. Zap is the most historically and aesthetically important comics series ever published.
Also included exclusively in this boxed set is a portfolio of Zap covers by the eight artists, replicated from high resolution scans and proofs, and specially printed for this edition on acid-free, 100% cotton fine-art paper utilizing archival pigment inks.
Praise For The Complete Zap Comix Boxed Set…
Yes, this is $500. Yes, it will absolutely blow some budding underground cartoonists mind. A monumental achievement.
— Joe Gross

Far f***ing out.
— David Pescovitz

The irony of turning something that was once sold in dirty bookstores into a $500 collectible is delicious, but I can't think of a more deserving title than Zap. The production quality of The Complete Zap Comix is first rate and the pages are clearer than they've ever been… Seeing the whole of the Zap run laid out like this, it seems obvious — so very, very obvious — what a profound and truly American cultural treasure this is. This is great art of historical and cultural importance that changed people, blew their minds and inspired them. … Zap Comix deserves to be reappraised and valued for what it's truly worth and Fantagraphics has done an amazing job with this stunning box set.

— Richard Metzger

Provocative, filthy and unquestionably excellent, this collection is a crown jewel in comics history.
— Sean Edgar

…The Complete Zap [is]… strikingly designed… While the early issues stand as rowdy documents of the 1960s counterculture, Zap was also more. In reinventing the comic book, it set off legal battles and conversations over censorship, brought attention to cartoonists as artists, and set an example for generations of alternative comics creators…

— Dana Jennings

Without a doubt one of the most influential titles in comics and comix history... A fantastic collection, and equally fantastic packaging. ... Zap definitely is an important staple in the history of comics, and this ultimate collection from Fantagraphics is an ultimate treasure trove to be enjoyed by new generations to come.

— Cameron Hatheway

Is it possible for something to be too good? If so, this deluxe set of complete Zap Comix might just be it. This is the most important comics collection to be released in years… This set is worth every penny of its price tag.

— Benn Ray

This mammoth edition offers the ideal opportunity to examine the way the periodical evolved, not only in terms of the interaction among its artists but also in terms of subject and form. ...[T]he sixteen issues, as well as a seventeenth that was previously unpublished, are reproduced over four volumes on a thick paper stock and at slightly larger than full size, and have been scanned from negatives. Simply put, they look fantastic.
— Nicole Rudick

…Zap Comix [is] a top five comic book series in terms of historical importance and a top 10 comic book series in terms of artistic significance.

— Tom Spurgeon
Fantagraphics, 9781606997871, 920pp.
Publication Date: December 6, 2014
About the Author
Born in Philadelphia, R. Crumb is the author of numerous comic works and one of the pioneers of underground comics and arguably one of the most famous cartoonists in history. His books include The Book of Genesis Illustrated by R. Crumb, and many more. He lives in the south of France with his wife, the artist Aline Kominsky-Crumb.

S. Clay Wilson, one of the founding members of the Zap comics collective. (Zap is a seminal underground comic book anthology, with contributors like R. Crumb.) He lives in San Francisco.

Manuel Rodriguez (1940–2012), better known as Spain, was one of the great American underground and socially conscious cartoonists.

In addition to being one of the seven, original Zap Comix contributors, Robert Williams's influence on alternative art is immeasurable. From his endeavors to broaden the possibilities for young artists to gain exposure sprang the well-known art chronicle, Juxtapoz magazine. He is the subject of a recent documentary, Mr. Bitchin'. He lives in Chatsworth, CA with his wife Suzanne.

Victor Moscoso is one of the defining stylists of the psychedelic culture of the 1960s, and one of the original Zap Comix artists (with R. Crumb, Robert Williams, Gilbert Shelton, Spain Rodriguez, S. Clay Wilson and Rick Griffin). He lives with his wife Gail in San Francisco, California.
or
Not Currently Available for Direct Purchase