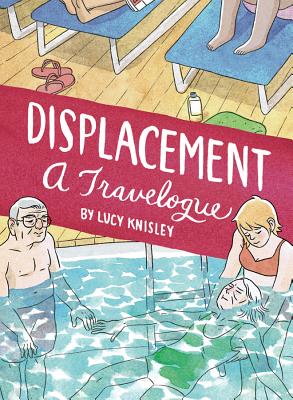 Displacement
Paperback

* Individual store prices may vary.
Description
In the latest volume of her graphic travelogue series, New York Times-best selling cartoonist Lucy Knisley must care for her grandparents on a cruise.
In her graphic memoirs,
New York Times
-best selling cartoonist Lucy Knisley paints a warts-and-all portrait of contemporary, twentysomething womanhood, like writer Lena Dunham (
Girls
). In the next installment of her graphic travelogue series,
Displacement
, Knisley volunteers to watch over her ailing grandparents on a cruise. (The book's watercolors evoke the ocean that surrounds them.) In a book that is part graphic memoir, part travelogue, and part family history, Knisley not only tries to connect with her grandparents, but to reconcile their younger and older selves. She is aided in her quest by her grandfather's WWII memoir, which is excerpted. Readers will identify with Knisley's frustration, her fears, her compassion, and her attempts to come to terms with mortality, as she copes with the stress of travel complicated by her grandparents' frailty.
Praise For Displacement…
In this sensitive graphic memoir, …Knisley finds both the humor and the sadness in her grandparents' condition while also pointing out the loneliness of being the only one responsible for caregiving and the frustration she feels for how the elderly are feared and ignored in modern America. ...Displacement is a timely and mature work that pairs perfectly with other elder-care titles, such as Roz Chast's Can't We Talk about Something More Pleasant?

— Snow Wildsmith - Booklist

A perfect memoir comic.
— Penn State University Libraries

This is going alongside A Supposedly Fun Thing I'll Never Do Again as required reading ahead of a cruise. Knisley celebrates the lives of her grandparents and grapples with her own mortality aboard the deck of a vacation cruise ship.

— Brian Heater - Tech Times

This is the struggle of caregivers all over the world, walking the fine line to balance their own needs and those of their charges, and Knisley gracefully investigates her own emotions and the aching sense of helplessness in the face of time and age. She does it without robbing herself or her grandparents of dignity or ignoring the depth of their love for one another. It's a must read for anyone with aging family members, perfectly capturing the sense of loneliness and helping to lessen it at the same time.
— Caitlin Rosberg - The A.V. Club

[Knisley's] art is terrific and getting even better. ...[H]er craft and heart keep this volume from turning into a bummer and a disaster like her trip.
— Richard Pachter - The Miami Herald

A cruise with your elderly grandparents is probably not the most appealing prospect for a typical 20-something. But cartoonist Lucy Knisley turns this potentially joy-sapping experience into the funny and heartfelt graphic memoir Displacement. … There's a sunniness to her sarcasm, even as she faces the reality of her grandparents' declining health.

— Nora Krug - The Washington Post

In her fourth book, Lucy Knisley deftly conveys the frustration of managing her ailing 'grands' during a maritime excursion, inducing pangs of recognition in any reader who's been around the decaying bodies and psyches of loved ones. What really sets the book apart, however, is Knisley's sparing artwork: Her unhurried lines and gentle watercolors create a show-don't-tell buffet of melancholy.
— Abraham Riesman - Vulture

Knisley's able to achieve an impressive balance between humor and poignancy, juxtaposing observations on the bizarre line-up of nighttime entertainment and the strangeness of her fellow passengers with thoughtful observations on aging and excerpts from her grandfather's World War II journals.
— Brian Heater - Paper

...[T]he quality that's made Knisley a great storyteller — her ability to recall nuanced encounters with a blend of wit and compassion — allows her to craft a compelling and complicated account of this time spent with her grandparents. ...[A] must-read...
— Tim O'Shea - Robot 6

Knisley has a great eye for what makes travel fun: what's different, what's delicious, cool museums, cute kitties, history, even the strange inconveniences.
— Gene Ambaum - Unshelved

Knisley volunteers to chaperone her ninety-year-old grandparents on their Caribbean cruise and ends up on another transformative journey, this time headlong into her fears about aging and death. I'm a fan of her work. ... Knisley moves rapidly between love, sorrow, and worry every day of the cruise.
— Sarah Hunt - Unshelved

Knisley is extraordinarily talented at journal comics, with clean-line, attractive figures and a good eye for summing up moments in scattered illustrations. … The overall message, that caretaking for others is an incredibly difficult, exhausting task, should not be surprising, but Knisley's well-selected details brings it home in sympathetic pain, fatigue, and loneliness. It's horrific but important.
— Johanna Draper Carlson - Comics Worth Reading

Each of Lucy Knisley's memoirs has been stronger than the last, and Displacement continues that rising arc. … As Roz Chast did with her parents in Can't We Talk About Something More Pleasant?, Knisley paints a true portrait of old age, never denying the unpleasant realities of illness and dementia but never letting her grandparents dwindle to just that. ...Knisley pays tribute to them by telling their story as well as her own.

— Brigid Alverson - Robot 6

...[T]he book [transforms from] a chronicle of the humorous-in-retrospect hardships she faced into a sort of meditation on aging, of life as a whole thing incorporating past as well as present and Knisley's family story. ... Despite the many travails she faced on her travels, it ends up being a pretty positive experience for all involved…including, of course, the reader.
— J. Caleb Mozzocco - Robot 6
Fantagraphics, 9781606998106, 168pp.
Publication Date: February 8, 2015
About the Author
Lucy Knisley is a cartoonist and occasional puppeteer, ukulele player, and food/travel writer living in Chicago, IL. She is a graduate of The School of the Art Institute of Chicago and Center for Cartoon Studies.
Coverage from NPR