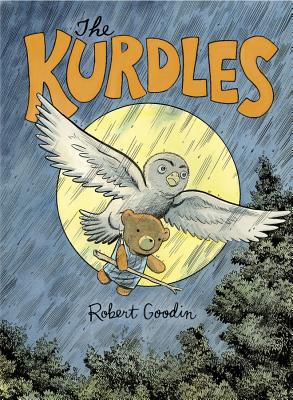 The Kurdles (Hardcover)
Fantagraphics, 9781606998328, 60pp.
Publication Date: May 1, 2015
* Individual store prices may vary.
Description
In this all-ages graphic novel, Sally the Teddy Bear gets separated from her family and encounters a town that just might grow legs and run away!
Sally is a teddy bear who gets separated from her owner while on a drive in the country. Desperate to find her way home, she stumbles upon Kurdleton, home to a most peculiar group of characters in the midst of a crisis: their forest house has grown hair, eyes, and a mouth! The creatures work with their new friend to keep Kurdleton from growing legs and running away! Goodin, an animation industry veteran, delivers a timeless classic in his debut graphic novel, introducing an unforgettable and charming cast of characters. Printed in an oversized format to showcase Goodin's stunning, hand-painted artwork,
The Kurdles
will capture the imagination of all ages.
About the Author
By day,Robert Goodin works in the animation industry (American Dad, Rugrats). By night—and on lunch breaks—he's a comics artist/illustrator whose work has appeared in McSweeney's Quarterly Concern, Mome, and Project: Romantic. He lives in Los Angeles with his wife, Georgene.
Praise For The Kurdles…
Goodin fills each panel with cinematic, hand-painted scenes that, while certainly for kids, are slightly eerie, though never truly scary. The toylike creatures and Muppetesque house are in appealingly sharp contrast to the soft, natural tones of the surrounding forest, which only serves to emphasize the off-kilter atmosphere.
— Sarah Hunter

[The Kurdles] is a charming blend of Enid Blyton whimsy and Moominvalley strangeness. ... This over-sized hardback emphasizes Goodin's beautiful hand-painted watercolor pages throughout, calling to mind childhood picture books and dreams of soft toys adventuring in the magical forests of the mind. It's a quirky and gentle tale, mixed with humor throughout.

— Laura Sneddon

The Kurdles is a brief, yet fantastical journey that imaginatively chronicles something so simple as a little help from one's friends. ... Slightly older children should find the characters and situations compelling and giggle-inducing, while the magic of the book won't be lost on adults, either.

— Zach Hollwedel

Bold, beguiling and beautiful, The Kurdles is the kind of book you will remember forever.

— Win Wiacek

This is a great little graphic novel for younger kids. It's gentle without ever being precious, and positive without relying on a false upbeat quality that ignores any negativity or darkness. ... Goodin... provides art that mixes wonder with clarity... It's also clear that he's having as much fun as potential readers probably will, and that gentle enthusiasm bleeds through when taking it all in.
— John Seven