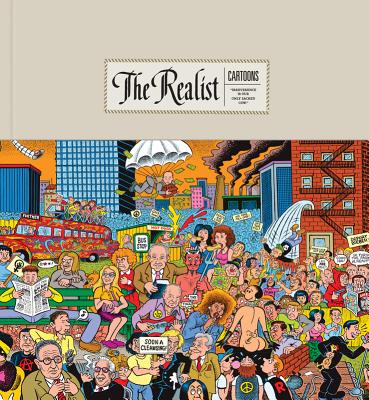 The Realist Cartoons
Hardcover

* Individual store prices may vary.
Description
A collection of the comics Time magazine called the Charlie Hebdo of the 1960s.
The Realist
was a legendary satirical periodical that ran from 1958 to 2001 and published some of the most incendiary cartoons that ever appeared in an American magazine.
The Realist Cartoons
collects, for the first time, the best, the wittiest, and the most provocative drawings that appeared in its pages, including work by R. Crumb, Art Spiegelman, S. Clay Wilson, Jay Lynch, Trina Robbins, Mort Gerberg, Jay Kinney, Richard Guindon, Nicole Hollander, Skip Williamson, and many others.
Fantagraphics, 9781606998946, 256pp.
Publication Date: December 6, 2016
About the Author
Paul Krassner, born 1932, is an American author, journalist, comedian, editor, and a founding member of the Yippies. Krassner was a contributor to early issues of Mad magazine, and is the only person to win awards for both Playboy and the Feminist Party Media Workshop.

Ethan Persoff is an archivist, cartoonist, and sound artist. His website Comics with Problems has brought historically significant comics to 21st century audiences and has been featured on multiple segments of The Rachel Maddow Show, as well as on CSPAN and Air America. It won a SXSW award in 2002. Fantagraphics has published his original comics work.

Art Spiegelman is the Pulitzer-Prize-winning creator of Maus. He's also a groundbreaking editor, whose recent projects include the Toon books line of graphic novels for school libraries, as well as the 1980s seminal comics anthology Raw, which introduced cartoonists like Charles Burns and helped kickstart the alternative comics movement. He's long been associated with the New Yorker.

Born in Philadelphia, R. Crumb is the author of numerous comic works and one of the pioneers of underground comics and arguably one of the most famous cartoonists in history. His books include The Book of Genesis Illustrated by R. Crumb, and many more. He lives in the south of France with his wife, the artist Aline Kominsky-Crumb.

Retired underground cartoonist and current comics historian Trina Robbins has been writing graphic novels, comics, and books for almost half a century. Her subjects have ranged from Wonder Woman and The Powerpuff Girls to her own teenage superheroine, GoGirl!, and from women cartoonists and superheroines to women who kill. She's won an Inkpot Award and was inducted in the Will Eisner Hall of Fame at the San Diego Comic-Con. She lives in a moldering, 100+-year-old house in San Francisco with her cats, shoes, and dust bunnies.

Jay Lynch (b. 1945) is a Mad magazine and Topps's Wacky Packages/Garbage Pail Kids contributor and a member of the 1960s-1970s underground comics movement. He recently published a graphic novel for children with Francoise Mouly and Art Speigelman's Toon book line.

Nicole Hollander is best known for her syndicated comic strip, Sylvia. Her work has been archived in the Billy Ireland Cartoon Library at Ohio State University, alongside Roz Chast's, Bill Watterson's, and other greats. She has published fifteen books, and blogs at badgirlchats.com. She lives in Chicago.

Gary Groth is the co-founder of The Comics Journal and Fantagraphics Books. He lives in Seattle.
or
Not Currently Available for Direct Purchase