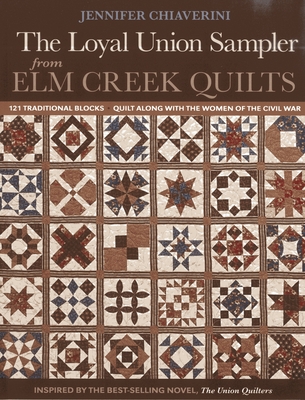 Loyal Union Sampler from ELM Creek Quilts (Paperback)
121 Traditional Blocks - Quilt Along with the Women of the Civil War
C&T Publishing, 9781607057659, 128pp.
Publication Date: September 1, 2013
* Individual store prices may vary.
Description
Inspired by Jennifer Chiaverini's best-selling novel, The Union Quilters, this sampler quilt offers a treasure trove of traditional blocks sewn by the women of Elm Creek Valley to support their troops during the American Civil War. The book includes historical notes on the novel and photos of 9 Loyal Union Samplers made by Jennifer and other Elm Creek Quilts lovers from around the world. These blocks can be mixed and matched with blocks from Jennifer's wildly popular Elm Creek Quilts sampler, Sylvia's Bridal Sampler. - 121 traditional 6" quilt blocks - Full-sized patterns for every block, plus instructions for assembling the quilt - Start an Elm Creek Quilt club and feature a different block at each meeting.
About the Author
Jennifer Chiaverini is the author of the New York Times bestselling Elm Creek Quilts series, as well as five previous collections of quilt patterns from C&T Publishing inspired by her novels. She lives with her husband and two sons in Madison, Wisconsin. OTHER TITLES BY THIS AUTHOR: Sylvia's Bridal Sampler from Elm Creek Quilts, 9781571206558; More Elm Creek Quilts, 978157104516; Return to Elm Creek, 9781571202697; Traditions from Elm Creek Quilts, 9781607054023;