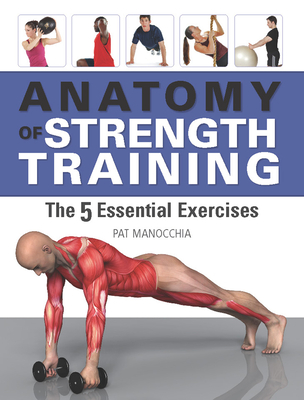 Anatomy of Strength Training: The 5 Essential Exercises [With Poster] (Paperback)
The 5 Essential Exercises [With Poster]
Thunder Bay Press, 9781607102045, 160pp.
Publication Date: December 1, 2010
* Individual store prices may vary.
or
Not Currently Available for Direct Purchase
Description
Working out can be fun and rewarding. But if you re not doing it correctly, it can seem pointless, and even painful. Knowing the best way to build muscleand knowing why it's the best waycan mean the difference between a lifelong devotion to exercise and a fabulously fit body, or giving up in frustration.
Health and fitness expert Pat Manocchia gives readers the tools they need to embark on a journey of fitness and health, from basic movements to information on how to build a complete exercise plan. With step-by-step instructions and easy-to-follow illustrations of starting positions and movement paths, it's like having your very own personal trainer.
Learn what to do and what "not" to do. For example, hands should be shoulder-width apart during a chin-up, and you should never, ever swing the body during that move. Keep a slight arch in the back while performing a dead lift, and do so by keeping the head up. Find out how to get results by following these and other exercises.
"Anatomy of Strength Training" brings a new dimension to workouts, helping readers target every problem areaand helping them stay on the path to health and fitness.

About the Author
Pat Manocchia is the owner, founder, and director of La Palestra Center for Preventative Medicine in New York City, a wholly integrated medical and fitness center. Widely recognized as one of the foremost experts in the field of health and fitness, Pat has multiple certifications and has served as contributing editor for "Women s Sports and Fitness" and "Allure" magazines. A former professional hockey player, he has completed eleven marathons and led several group climbs around the world. A graduate of Brown University, he lives in New York with his wife, Deborah, and their two children."
Praise For Anatomy of Strength Training: The 5 Essential Exercises [With Poster]…
"Pat Manocchia's a great trainer because I can feed off his knowledge and intensity, which allows me to get more from myself." —Tennis legend John McEnroe

"Pat's training programs and methods have gotten me into the best off-season shape I've ever been in…Pat keeps your body in a good place, [but] he keeps your mind in an even better place." —NHL player Sean Avery

"As one of the fortunate to work one-on-one with Pat Manocchia, I've learned so much about fitness and health…I am thrilled that I can now carry his expertise in my suitcase all around the world—without the extra plane ticket. This book not only teaches but also demonstrates what changed my life forever. Thanks Pat." —Grammy Award–winning gospel and R&B singer BeBe Winans
Advertisement