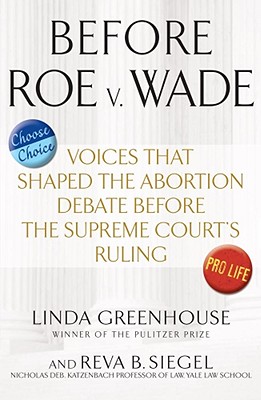 Before Roe v. Wade (Hardcover)
Voices that Shaped the Abortion Debate Before the Supreme Court
Kaplan Publishing, 9781607146711, 352pp.
Publication Date: June 1, 2010
* Individual store prices may vary.
Description
The Supreme Court's 1973 decision in Roe v. Wade legalized abortion–but the debate was far from over, continuing to be a political battleground to this day. In the decades since the case was decided, the American debate on abortion has moved away from the issues that the justices confronted more than three decades ago. Bringing to light key voices that illuminate the case and its cultural context, Before Roe v. Wade looks back and recaptures how the arguments for and against abortion took shape as claims about the meaning of the Constitution—and about how the nation could best honor its commitment to dignity, liberty, equality, and life.
In this ground-breaking book, Linda Greenhouse, a Pulitzer Prize-winning journalist who covered the Supreme Court for 30 years for The New York Times, and Reva Siegel, a renowned professor and former deputy dean at Yale Law School, collect the most significant historical, cultural, and legal documents which helped shape the Supreme Court's controversial decision.
Coverage from NPR
or
Not Currently Available for Direct Purchase