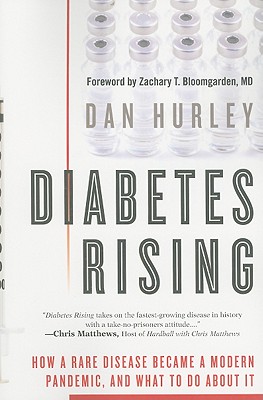 Diabetes Rising
Paperback

* Individual store prices may vary.
Other Editions of This Title:
Hardcover (1/5/2010)
Description
Now in paperback--the controversial expose of the causes and treatments of diabetes, revised and updated. "Diabetes Rising takes on the fastest-growing disease in history with a take-no-prisoner's attitude. Not willing to live with the enemy, Dan Hurley wants to kill it in its crib." --Chris Matthews, Host of MSNBC's Hardball with Chris Matthews In Diabetes Rising, investigative journalist Dan Hurley chronicles the modern diabetes epidemic: how the disease has grown so dramatically, why the American Diabetes Association focuses its attention on just a small handful of available treatments, and why the research being done today does not look beyond accepted types of treatments. With ground-breaking research and compelling stories told through an investigative, historical, and narrative lens, Diabetes Rising offers riveting insight into the struggle between a persistent malady and the medical community's ongoing search for answers. Just as Eric Schlosser's Fast Food Nation uncovered the sordid details leading to an epidemic of obesity, Dan Hurley uncovers the hidden truths about diabetes, including what is being researched and what is not.
Praise For Diabetes Rising…
"An important work...Well written, weaving personal stories, interviews with lead scientific researchers, and historical reviews to create an easy-to-read, complete look at the epidemic of diabetes." —Journal of the American Medical Association


""Diabetes Rising takes on the fastest-growing disease in history with a take-no-prisoner's attitude. You got to love the author's pugnacity. Dan Hurley takes the same approach to diabetes that Ronald Reagan took on the Cold War. Not willing to live with the enemy, he wants to kill it in its crib."" —Chris Matthews, Host of MSNBC's Hardball with Chris Matthews 

""...the real zingers in Hurley's account are the variety of new studies he reports in connection with the astonishing increase in overt or potential diabetes in nearly 25 percent of the world's adult population."" — Kirkus Reviews

""Books offering advice on living with diabetes are legion. Hurley provides instead a compelling layperson's overview of diabetes research enlivened by multiple interviews with scientists in the field. Diabetics and those who love them will find this a fascinating and hope-filled read."" — Library Journal, starred review 

...""fascinating, informative book…"" — Booklist 

""Few people are more qualified to write this medical mystery story. An award-winning journalist for medical publications and the New York Times, Hurley has been matching wits with the killer for thirty years inside his own body—he developed type I diabetes in 1975, and his description of his last supper as a non-diabetic on Thanksgiving is harrowing. One of the many strengths of this book, in fact, is Hurley's ability to juxtapose masses of historical medical information with highly personal stories, his own and those of others, which give a human face to this impersonal killer. We want a cure for diabetes, not just for mankind, but for Hurley and his young daughter."" — Foreword

""Diabetes Rising is very well written and is a must-have for families living with type 1 diabetes. Highly Recommended."" — ChildrenwithDiabetes.com 

""This is a stunning book about diabetes. For patients, family members, physicians, and those simply interested in learning more about a disease so closely linked to the rise of modern civilization, Diabetes Rising offers not just a thorough background, but the hint of an 'out of the box' approach to how we can treat and prevent diabetes."" — from the foreword by Zachary T. Bloomgarden, M.D., Editor, Journal of Diabetes 

""With engaging style, Dan Hurley uses the tools of investigational journalism to ask the question millions affected by diabetes ask themselves every day: 'Why can't we cure and prevent this devastating disease?' Diabetes Rising challenges conventional wisdom in search of pioneering scientific approaches to achieve a world without diabetes."" — S. Robert Levine, M.D., Juvenile Diabetes Research Foundation Board of Chancellors 

""Dan Hurley has created a superb framework for understanding diabetes today and the profound challenges that face anyone affected by it. In crisp, vivid prose, Hurley offers unerring insight on what we live with. Essential reading!"" — Kelly L. Close, editor in chief, diaTribe 

""We are increasingly living in a diabetic nation, and Dan Hurley provides a durable framework for understanding what that means -- the potent forces driving the epidemic, the deep impact on individual lives, and the possible solutions that can turn the tide."" — James S. Hirsch, author of Cheating Destiny: Living with Diabetes

Kaplan Publishing, 9781607148302, 344pp.
Publication Date: February 1, 2011
About the Author
Dan Hurley is a science writer and journalist who regularly contributes to The New York Times Science Times. He also writes for numerous medical newspapers, including Neurology Today (the newspaper of the American Academy of Neurology), Gastroenterology and Endoscopy News, Pharmacy Practice News, General Surgery News, and others. He has been senior writer at the Medical Tribune and contributing editor to Psychology Today, where his article on the violent mentally ill won the American Society of Journalists and Authors' award for investigative journalism in 1995. He is the former Vice President of the American Society of Journalists and Authors. He is also the author of Natural Causes: Death, Lies, and Politics in America's Vitamin and Herbal Supplement Industry and The 60-Second Novelist: What 22,613 People Taught Me About Life.
or
Not Currently Available for Direct Purchase