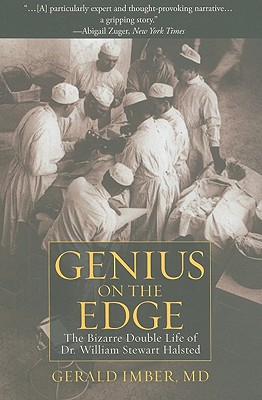 Genius on the Edge
The Bizarre Double Life of Dr. William Stewart Halsted
Paperback

* Individual store prices may vary.
Other Editions of This Title:
Hardcover (2/2/2010)
Description
Now in paperback, the groundbreaking biography of the most influential surgeon in American history.

"Gerald Imber's new biography is the first retelling of Halstead's story in many decades and a particularly expert and thoughtprovoking narrative makes the intense strangeness of Halstead's subsequent career a gripping story."


—Abigail Zuger, New York Times Science Section

Dr. William Stewart Halsted's life was fascinating and complex. Halsted, perhaps the most important surgeon America has ever produced, battled a lifelong cocaine addiction and maintained numerous secret relationships while simultaneously devising revolutionary medical innovations. Yet the story of Halsted's life, one of seemingly irreconcilable extremes, is in many ways the story of modern medicine.

Before Halsted, poorly-trained doctors performed surgery without anesthesia in unsanitary conditions and patients were rarely expected to survive. Halstead transformed the medical practice by inventing local and spinal anesthesia; introducing the use of rubber gloves during surgery; pioneering the use of fine silk thread for sutures; developing techniques for stabilizing blood pressure during surgery; and inventing the radical mastectomy, blood transfusions, and surgical cures for hernias.

Genius on the Edge is an illuminating biography of a complex and troubled man whose brilliance we continue to benefit
from today.
Praise For Genius on the Edge: The Bizarre Double Life of Dr. William Stewart Halsted…
"Gerald Imber's new biography is the first retelling of Halsted's story in many decades and a particularly expert and thought-provoking narrative makes the intense strangeness of Halsted's subsequent career a gripping story."—Abigail Zuger, New York Times Science section

 "…Dr. Gerald Imber's unpredictable and unflappable biography, an intrigue-filled life story that's also a sweeping pop medical history, depicts an individual who was two different kinds of good - make that, great - doctor."  —Baltimore Sun  

"With this engaging (if spectacularly subtitled) biography, Imber brings into focus the amazing strides medicine has made over 150 years."   —Publishers Weekly  

"Imber provides a few other colorful details about Halsted: He named his dachshunds "Nip" and "Tuck" and was such an indifferent college student that "there is no record of Halsted ever having borrowed a book from the Yale library." He did crack a book during his senior year: Gray's "Anatomy," which inspired him to pursue medicine."  —Washington Post  



"A gripping mixture of medical history and detailed biographical analysis..." —Huffington Post

"He provides a vivid sense of many "larger-than-life personalities," including those of William Welch, William Osler, Howard Kelly, Harvey Cushing, and Walter Dandy. His powers of description are compelling, and his carefully chosen words seem to let the monumental events speak for themselves. The book is a must-read for residents. The residency of the 21st century is evolving from that of the 20th, but it will be a long time before Halsted's imprint is no longer palpable."  —Anesthesiology

"Gerald Imber has captured in one grisly sweep the barbarism of both early surgery and the manure-trodden streets it grew from. Like Doctorow's RAGTIME, it's evocative in broad strokes….Not just for history buffs, Imber gives any reader a character for the ages. Riveting." —Mary Karr, author of The Liars' Club


Kaplan Publishing, 9781607148586, 400pp.
Publication Date: February 1, 2011
About the Author
Dr. Gerald Imber is a well known plastic surgeon and authority on cosmetic surgery, and directs a private clinic in Manhattan. An early proponent of prevention and minimally invasive procedures, he has devised many popular anti-aging techniques, and is attending surgeon at New York Presbyterian Hospital and assistant clinical professor of surgery at Weill-Cornell School of Medicine.

Dr. Imber has published many scientific papers and is a regular lecturer at professional meetings. He is also the author of a number of "beauty books" and has written on many subjects for varied publications such as Departures, and The Wall Street Journal, and appears regularly on network television.