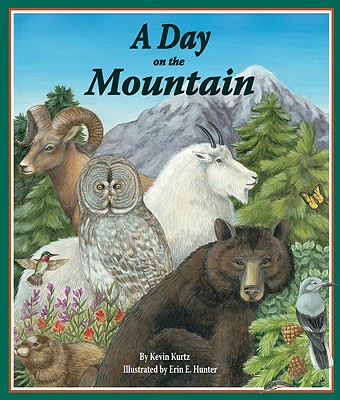 A Day on the Mountain (Hardcover)
Arbordale Publishing, 9781607180739, 32pp.
Publication Date: August 10, 2010
* Individual store prices may vary.
Description
Come spend A Day on the Mountain, the follow up to Kevin Kurtz's award-winning first book, A Day in the Salt Marsh. Rhyming verse and vibrant illustrations take readers up a mountain, from the forested bottom to the snow-covered top. While climbing, they witness the changing habitats and meet the plants and animals that live there. Learn about Black bears, Great Gray Owls, Garter snakes, Clark's nutcrackers, Bighorn sheep, Hummingbirds, Yellow-bellied marmots, Mountain goats, Salamanders, and Snow fleas.
About the Author
As both a children's book and scientific illustrator, Erin Hunter specializes in entomological and botanical illustrations. She illustrated A Day in the Deep, The Great Divide, Multiply on the Fly, and for Arbordale, and she has taught botanical illustration and field sketching at University of California at Santa Cruz. Erin's portfolio includes print and online design projects for clients ranging from marketing firms to culinary groups to educational organizations-and she's drawn insects under a microscope for the Smithsonian's Museum of Natural History. Erin lives with her husband on California's Monterey Peninsula. When she's not sketching and painting, she tends to flowers, fruit trees, and vegetables in her backyard garden. Visit Erin's website: http: //www.eehunter.com/