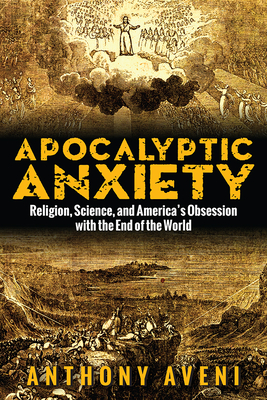 Apocalyptic Anxiety (Paperback)
Religion, Science, and America's Obsession with the End of the World
University Press of Colorado, 9781607324706, 268pp.
Publication Date: May 2, 2016
* Individual store prices may vary.
Description
Apocalyptic Anxiety traces the sources of American culture's obsession with predicting and preparing for the apocalypse. Author Anthony Aveni explores why Americans take millennial claims seriously, where and how end-of-the-world predictions emerge, how they develop within a broader historical framework, and what we can learn from doomsday predictions of the past.

The book begins with the Millerites, the nineteenth-century religious sect of Pastor William Miller, who used biblical calculations to predict October 22, 1844 as the date for the Second Advent of Christ. Aveni also examines several other religious and philosophical movements that have centered on apocalyptic themes—Christian millennialism, the New Age movement and the Age of Aquarius, and various other nineteenth- and early twentieth-century religious sects, concluding with a focus on the Maya mystery of 2012 and the contemporary prophets who connected the end of the world as we know it with the overturning of the Maya calendar.

Apocalyptic Anxiety places these seemingly never-ending stories of the world's end in the context of American history. This fascinating exploration of the deep historical and cultural roots of America's voracious appetite for apocalypse will appeal to students of American history and the histories of religion and science, as well as lay readers interested in American culture and doomsday prophecies.
About the Author
Anthony Aveni is the Russell Colgate Distinguished University Professor of Astronomy, Anthropology, and Native American Studies at Colgate University. He has researched and written about Maya astronomy for more than four decades. He was named a US National Professor of the year and has been awarded the H. B. Nicholson Medal for Excellence in Research in Mesoamerican Studies by Harvard's Peabody Museum.
Praise For Apocalyptic Anxiety: Religion, Science, and America's Obsession with the End of the World…
"Anthony Aveni's Apocalyptic Anxiety is an astute and engaging guide to the many themes and variations of apocalyptic thinking in American history, and he effectively outlines the basic beliefs at the core of most of these movements. The lessons and parallels he draws are instructive and provide a unique perspective on the hopes and challenges of our day."
—Foreword
 
"[E]ntertaining, informative, and clearly written . . . . a fascinating, readable, and engaging overview of the lively and varied landscape of American apocalyptic belief."
—Reading Religion
 
 "Aveni has written an illuminating discussion of 'apocalyptic anxiety,'. . . . Highly recommended."
—CHOICE
or
Not Currently Available for Direct Purchase