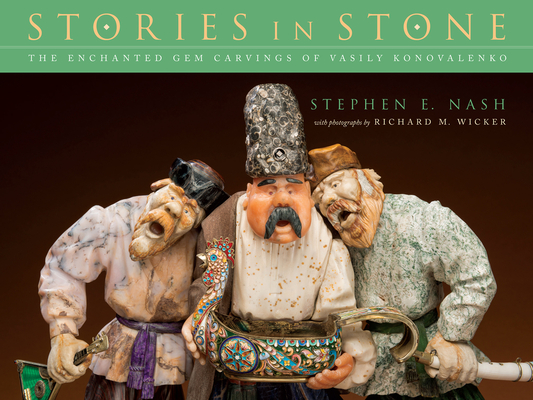 Stories in Stone
The Enchanted Gem Carvings of Vasily Konovalenko
Paperback

* Individual store prices may vary.
Description
Vasily Konovalenko's unique, dynamic, and theatrical sculptures stand alone in the gem-carving world—bawdy but not salacious, political but not diplomatic, boisterous and exuberant yet occasionally sensitive. Stories in Stone offers the first comprehensive treatment of the life of this little-known Russian artist and the remarkable history of his wonderful sculptures.
 
Part art catalogue and part life history, Stories in Stone tells the tale of Konovalenko's impressive works, explaining their conception, creation, and symbolism. Each handcrafted figure depicts a scene from life in the Soviet Union—a bowman hunting snow geese, a woman reposing in a hot spring surrounded by ice, peasants spinning wool, a pair of gulag prisoners sawing lumber—painstakingly rendered in precious stones and metals. The materials used to make the figurines are worth millions of dollars, but as cultural artifacts, the sculptures are priceless. Author Stephen Nash draws upon oral history and archival research to detail the life of their creator, revealing a rags-to-riches and life-imitates-art narrative full of Cold War intrigue, Communist persecution, and capitalist exploitation.
 
Augmented by Richard M. Wicker's exquisite and revelatory photographs of sixty-five Konovalenko sculptures from museums, state agencies, and private collections around the world, Stories in Stone is a visually stunning glimpse into a unique corner of Russian art and cultural history, the craft and science of gem carving, and the life of a Russian artist and immigrant who loved people everywhere.
 
Co-published with the Denver Museum of Nature & Science, home to the most significant collection of Russian gem-carving sculptures by Vasily Konovalenko in the world.
Praise For Stories in Stone: The Enchanted Gem Carvings of Vasily Konovalenko…
"​This book is a fitting tribute to Vasily Konovalenko and to his legacy to the Russian tradition of stone carving. ​[It] would be of interest to anyone fascinated by sculpture, stone carving, and gemstones in general; those interested in 20th century Russian history and decorative arts would find Konovalenko's life story and work particularly intriguing.​"​
—Gemological Institute of America
University Press of Colorado, 9781607325024, 304pp.
Publication Date: July 7, 2016
About the Author
Stephen E. Nash is a curator of archaeology and the chair of the Department of Anthropology at the Denver Museum of Nature & Science. He is author or editor of seven books, including Colorado Book Award finalist An Anthropologist's Arrival: A Memoir (by Ruth M. Underhill) and Crossroads of Culture: Anthropology Collections at the Denver Museum of Nature & Science.
 
Richard M. Wicker is the staff photographer at the Denver Museum of Nature & Science. His work has appeared in the New York Times, National Geographic, Nova, Scientific American, and numerous other museum and scientific publications.
 
or
Not Currently Available for Direct Purchase