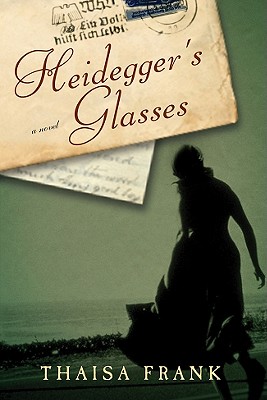 Heidegger's Glasses
Hardcover

* Individual store prices may vary.
Other Editions of This Title:
Hardcover (11/1/2010)
Paperback (10/11/2011)
Description
Heidegger's Glasses opens during the end of World War II in a failing Germany coming apart at its seams. The Third Reich's strong reliance on the occult and its obsession with the astral plane has led to the formation of an underground compound of scribes –translators responsible for answering letters written to those eventually killed in the concentration camps. 
Into this covert compound comes a letter written by eminent philosopher Martin Heidegger to his optometrist, a man now lost in the dying thralls of Auschwitz. How will the scribes answer this letter? The presence of Heidegger's words--one simple letter in a place filled with letters--sparks a series of events that will ultimately threaten the safety and well-being of the entire compound.
Part love story, part thriller, part meditation on how the dead are remembered and history is presented, with threads of Heidegger's philosophy woven throughout, the novel evocatively illustrates the Holocaust through an almost dreamlike state. Thaisa Frank deftly reconstructs the landscape of Nazi Germany from an entirely original vantage point.
"This is stunning work, full of mystery and strange tenderness. Thaisa Frank has written one of the most compelling stories of the Nazi regime since D.M. Thomas' Pictures at an Exhibition. It is a book that will haunt you."
- Dan Chaon, New York Times bestselling author of Await Your Reply
"Thaisa Frank has composed a mesmeric image of prisoners trapped in the madness of a decaying Nazi regime. Ms. Frank's skillfully laced prose and riveting imagery combine to create an unforgettably surrealistic portrait of a world gorged on insanity."
-Thomas Steinbeck, author of Down to a Soundless Sea
"Philosophical yet searingly passionate, Thaisa Frank's debut novel is essential reading for our own uncertain times. Practically vibrating with empathy, Heidegger's Glasses is one of those rare gifts of literature that makes you feel as deeply as it makes you think. You will never forget it."
- Sheri Holman, author of The Dress Lodger
"Heidegger's Glasses is a spellbinding, innovative, intellectually compelling tour-de-force. Thaisa Frank's imagination is boundless: she enchants and horrifies and moves us, often on the same page."
-Michelle Huneven, author of Blame
"Heidegger's Glasses has the majesty and significance of novels of another time and place. Thaisa Frank's surreal narrative has the uncanny sensibility of a Yiddish folk tale and the mystical spirit of an Issac Bashevis Singer story."
-Katharine Weber, author of True Confections and Triangle
"HEIDEGGER'S GLASSES suspends us in a world populated with angels and devils, philosophers and survivors, who come alive through passions and actions that seize our minds and hearts.  This surreal world explodes and we watch courage walking hand in hand with death until the satisfying end. It is an amazing book."
-Louise Murphy, author of
The True Story of Hansel and Gretel
Phoenix Books, 9781607477266, 312pp.
Publication Date: May 1, 2010
or
Not Currently Available for Direct Purchase