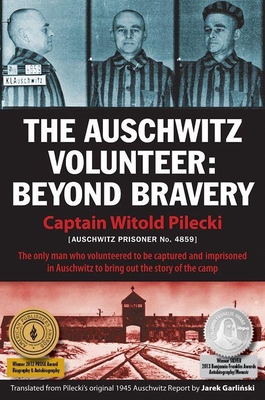 The Auschwitz Volunteer
Beyond Bravery
Paperback

* Individual store prices may vary.
Other Editions of This Title:
Compact Disc (4/8/2014)
MP3 CD (4/8/2014)
Compact Disc (4/8/2014)
Description
In 1940, the Polish Underground wanted to know what was happening inside the recently opened Auschwitz concentration camp. Polish army officer Witold Pilecki volunteered to be arrested by the Germans and reported from inside the camp. His intelligence reports, smuggled out in 1941, were among the first eyewitness accounts of Auschwitz atrocities: the extermination of Soviet POWs, its function as a camp for Polish political prisoners, and the final solution for Jews. Pilecki received brutal treatment until he escaped in April 1943; soon after, he wrote a brief report. This book is the first English translation of a 1945 expanded version. In the foreword, Poland's chief rabbi states, If heeded, Pilecki's early warnings might have changed the course of history. Pilecki's story was suppressed for half a century after his 1948 arrest by the Polish Communist regime as a Western spy. He was executed and expunged from Polish history. Pilecki writes in staccato style but also interjects his observations on humankind's lack of progress: We have strayed, my friends, we have strayed dreadfully... we are a whole level of hell worse than animals These remarkable revelations are amplified by 40 b&w photos, illus., and maps.
Aquila Polonica, 9781607720102, 460pp.
Publication Date: April 30, 2012
About the Author
Pilecki, Captain Witold (pronounced VEE-told pee-LETS-kee) Captain Witold Pilecki (1901-1948), a cavalry officer in the Polish Army, was one of the founders of a resistance organization in German-occupied Poland during World War II that quickly evolved into the Polish Underground Army. Pilecki is the only man known to have volunteered to get himself arrested and sent to Auschwitz as a prisoner. His secret undercover mission for the Polish Underground: smuggle out intelligence about this new German concentration camp, and build a resistance organization among the inmates with the ultimate goal of liberating the camp. Barely surviving nearly three years of starvation, disease and brutality, Pilecki accomplished his mission before escaping in April 1943. Soon after his escape, Pilecki wrote two relatively brief reports for his Polish Army superiors about his time in Auschwitz. In 1945 he wrote his most comprehensive report of more than one hundred single-spaced typed foolscap pages--it is this last, most comprehensive, report which Aquila Polonica is publishing in English for the first time. Pilecki continued his work in the High Command of the Polish Underground Army, fought in the Warsaw Uprising (August-October 1944), was taken prisoner by the Germans, and ended the war in a German POW camp. In late 1945, Pilecki, who was married and the father of two children, volunteered to return undercover to Poland where conditions were chaotic at war's end as the communists were asserting control. His mission this time: liaise with anti-communist resistance organizations and report back on conditions within the country. He was captured by the postwar Polish communist regime, tortured and executed in 1948 as a traitor and a "Western spy." Pilecki's name was erased from Polish history until the collapse of communism in 1989. Pilecki was fully exonerated posthumously in the 1990s. Today he is regarded as one of Poland's heroes. Translator Bio Garlinski, Jarek Translator Jarek Garlinski was born in London, England, and grew up bilingual in English and Polish. His father was noted historian and author Jozef Garlinski, a former prisoner at Auschwitz-Birkenau. His mother Eileen Short-Garlinska was one of only a few Britons who spent World War II in Warsaw. Both parents served in the Polish Underground Army during the war. Educated at the University of Nottingham, the University of Grenoble, and the School of Slavonic and East European Studies at the University of London, Garlinski is fluent in English, French, Polish and Russian, with a distinguished career in education. Garlinski is a member of the Polish Institute of Arts and Sciences of America and has been decorated by the Polish Ministry of Defense and the Knights of Malta for services to Polish culture. He has translated numerous books of Polish literature and history, specializing in the World War II era.