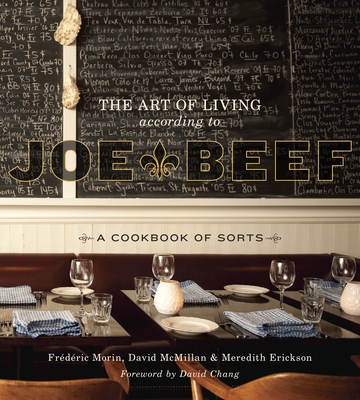 The Art of Living According to Joe Beef
A Cookbook of Sorts
Hardcover

* Individual store prices may vary.
Description
The debut cookbook from one of the most celebrated restaurants in Canada, featuring inventive twists on French market cuisine, plus spirited anecdotes and lush photography.

Earning rave reviews for their unforgettable approach, Joe Beef co-owners/chefs David McMillan and Frédéric Morin push the limits of traditional French cuisine with over 125 recipes (nearly all of them photographed) for hearty dishes infused with irreverent personality. The Strip Loin Steak comes complete with ten variations, Kale for a Hangover wisely advises the cook to eat and then go to bed, and the Marjolaine includes tips for welding your own cake mold. Joe Beef's most popular dishes are also represented, such as Spaghetti Homard-Lobster, Foie Gras Breakfast Sandwich, Pork Fish Sticks, and Pojarsky de Veau (a big, moist meatball served on a bone). The coup de grâce is the Smorgasbord—Joe Beef's version of a Scandinavian open-faced sandwich—with thirty different toppings.

Featuring lively stories and illustrations showcasing gangsters, oysters, Canadian railroad dining car food, the backyard smoker, and more, this nostalgic yet utterly modern cookbook is a groundbreaking guide to living an outstanding culinary life.
Praise For The Art of Living According to Joe Beef: A Cookbook of Sorts…
Finalist, IACP Awards 2012, Chefs & Restaurants Category
Winner of Food52's Piglet Tournament of Cookbooks, 2012

"As I leafed through the pages I came to be charmed by their story and the unconventional way the book is laid out. There is a sense of history to the book and their deep love of Montreal is evident throughout. There is richness in detail and usually a lovely idiosyncratic story for each recipe that makes the book as much of an engaging read as a straightforward cookbook." 
—Judge Alice Waters, Food52's Piglet Tournament of Cookbooks, 2012

"One of the best cookbooks of the year. . . the stories by Frédéric Morin and David McMillan are worth the price."
—Edward Ash-Milby, Buyer at Barnes & Noble 

"This bizarre and spectacular book isn't like the other on my list—but then again, it's not much like any other book I know of, cooking-related or otherwise. . . a kind of artist's statement for an idiosyncratic and unlikely restaurant." 
—Mother Jones, Favorite Cookbooks of 2011, 12/3/11

"Proof of Morin's and McMillan's creative culinary genius." 
—USA Today, 11/22/11 

"Joe Beef is a Montreal restaurant worthy of a special trip north, as David Chang attests in his foreword to this "cookbook of sorts." The free-form tome embodies the delicious chaos of the place, and the eccentric interests and oversize appetites of the men behind it—chefs and co-owners Frédéric Morin and David McMillan. There's history here, including the tale of Joe Beef himself, the 19th-century Irish immigrant, Canadian tavern owner and "friend of the working man" for whom the restaurant is named. In addition to recipes, there are chapters on the history of Montreal eating (spotlighting the casse-croute tradition of ramshackle snack shacks) and on trains—old-school rail travel being one of Morin's enduring obsessions. Cook this: Spaghetti homard-lobster in bacon-brandy cream; stuffed dining-car calf liver in Parmesan-mustard crust; Joe Beef foie gras and cheddar cheese "Double Down."
—Time Out New York, The Season's Best Cookbooks, 11/15/11

"I believe everyone should eat at Joe Beef at least once. And I think everyone should buy this cookbook."
—Food Republic, 11/14/11

"Inventive, meaty, badass cooking. And with these chefs, you get the sense that food and only food is what matters."
—BonAppetit.com, BA Daily blog, 10/18/11 

"Beautiful, hip, both feminine and masculine at the same time. . . . The book conveys an entire atmosphere, a way of relating to food, yes, but also time, and love, and communication. The recipes are sexy, but in the way that Montreal is sexy. If you have been to Montreal, I'm guessing you know what I mean." 
—Eating from the Ground Up, 10/11/11

"If one judges a cookbook by its idiosyncrasies, this fall's best comes from Canada. The Art of Living According to Joe Beef, by Frédéric Morin and David McMillan, will teach you how to cook a horse steak, make absinthe, tour Canada by train and cure a hangover (kale with bacon and fried egg). . . . But what makes this cookbook so great—and Momofuku Ko chef David Chang's "favorite restaurant in the world," according to his foreword—is the confidence, humor and lack of pretense that allows Morin and McMillan to serve a mound of caviar next to a martini garnished with a Vienna sausage. Oh, those Canadians." 
—Departures, 9/15/11

"This book, from the folks behind the Montreal restaurant David Chang calls his "favorite restaurant in the world," covers a fantastic range of topics. Sure, there are recipes, but there is also a history of the restaurants of Montreal, a paean to the trains of Canada, "Le Grand Setup de Caviar," a thirty ingredient smorgasbord, a martini recipe that calls for a Vienna sausage garnish, and plans for building a smoker yourself." 
—Eater National, 9/12/11

"From the acclaimed Montreal restaurant come personality-packed tales of food and drink, like instructions for building a smoker and distilling absinthe."
—DETAILS, The Year's 10 Best Cookbooks, September 2011 Issue

"Touching on many of this fall's themes—and simultaneously defying categorization—is The Art of Living According to Joe Beef: A Cookbook of Sorts by David McMillan, Frédéric Morin, and Meredith Erickson. While it is tied to a restaurant (Montreal bistro Joe Beef), it makes nods to regular folks, too, including, for instance, instructions for building a backyard smoker. But with recipes for Swedish sandwiches, recollections of favorite train trips, and a love letter to French burgundy, this is one cookbook that—happily, for us—eschews all the trends."
—Publishers Weekly, Top 10 Fall Cookbooks, 6/27/11

"A savvy page-turner full of meats, oysters, attitude and irreverence."
—Publishers Weekly, 6/20/11

"Fred, Dave, and Meredith are a significant part of what makes Montreal dangerous—and delicious—to anyone who loves food. The words Joe Beef are synonymous with good food and good times."
—ANTHONY BOURDAIN
 
"This is the most amazing cookbook of the last ten years. As a longtime fan of the restaurant and its staff, I can tell you that Joe Beef is more than just an eatery. It embodies a way of looking at food and life, a zeitgeist, that I thought was impossible to capture in print. I was wrong. If you want to cook in a gutsy, honest, meat-centric, modernist aesthetic—then look no further."
—ANDREW ZIMMERN, award-winning chef, author, and host of Bizarre Foods with Andrew Zimmern
 
"Eating at Joe Beef is the most heartwarming, delicious time you will have north of the border. Fred and David are truly talented artisans and gastronomes dedicated to flavor, technique, and downright old-world hospitality. Read this book; it'll make your mouth water."
—FRANK CASTRONOVO and FRANK FALCINELLI, chefs/owners, Frankies Spuntino
  
"This cookbook is crazy delicious, just like the restaurant—full of fun, flavor, philosophy, and food."
—BONNIE STERN, founder, Bonnie Stern School of Cooking
 
"Fred and Dave sont des vrais (are the real thing). They were hunting, fishing, foraging, butchering whole animals, and growing their own vegetables long before it was cool. I could go on about how these boys cook (like masters), but you'll discover that in these pages."
—RIAD NASR, executive chef, Minetta Tavern
 
"The Art of Living According to Joe Beef captures Fred and Dave's complete vision: their unique style of cooking and a warm and wacky atmosphere that always seems to be ahead of the curve. This is everything we love about Joe Beef, without having to fly to Montreal."
—VINNY DOTOLO and JON SHOOK, Animal and Son of a Gun restaurants
 
"Filled with historic facts, quirky cooking techniques, and food that holds nothing back, this book is overflowing with ingenuity. It reflects, indeed, the art of living according to Joe Beef."
—CHUCK HUGHES, chef/owner, Garde Manger
Ten Speed Press, 9781607740148, 304pp.
Publication Date: October 11, 2011
About the Author
Frédéric Morin and David McMillan are co-owners/chefs of Joe Beef, Liverpool House, and McKiernan Luncheonette. Morin is a graduate of L'Ecole Hoteliere des Laurentides and a veteran of Montreal's dynamic Jean-Talon Market, Restaurant Toque, and Globe. McMillan has apprenticed at The Savoy in London, worked as a chef at The Sooke Harbour House in Victoria, B.C., and cooked at La Cremaillere and Thibert in Burgundy, France.

Meredith Erickson is a freelance writer (and former Joe Beef waitress) whose work has appeared in The New York Times, Maisonneuve, and Elle.
Book Videos