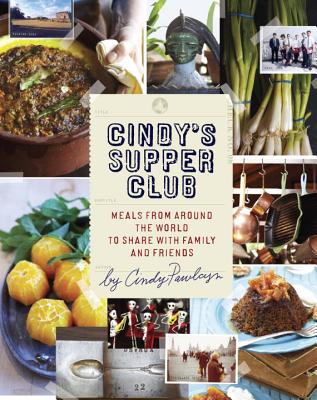 Cindy's Supper Club (Hardcover)
Meals from Around the World to Share with Family and Friends
Ten Speed Press, 9781607740247, 288pp.
Publication Date: May 15, 2012
* Individual store prices may vary.
Description
A collection of 125 chef-worthy global recipes presented in international dinner menus, drawn from renowned chef Cindy Pawlcyn's informal gatherings.

It's no secret that legions of fans flock to Cindy Pawlcyn's restaurants for her globally influenced signature dishes. What is not so well known is that Cindy has turned her passions for cooking and travel into a popular supper club, where she creates an adventurous menu celebrating a different international cuisine each week. Cindy's Supper Club has become a destination event, presenting a world tasting tour on a plate.

Cindy's Supper Club serves up twenty-five complete menus inspired by Cindy's dinners and featuring more than 125 recipes from the world's greatest food destinations, including Hawaii,Mexico, Brazil, Peru, Austria, Belgium, England, Ireland, Sweden, Norway, France, Greece, Italy, Spain, Hungary, Russia, Georgia, Ethiopia, Morocco, South Africa, Lebanon, Turkey, China, Japan, Korea, India, and Thailand.

"I have had the great pleasure of watching my friend Cindy Pawlcyn shape the Napa Valley into a world-class culinary empire. I am constantly amazed at how she creates her dishes and the final extraordinary flavors that hit the plate. Buy this book as fast as you can. You are in for a wonderful surprise."

MICHAEL CHIARELLO, chef-owner of Bottega Ristorante and author of Bottega
About the Author
CINDY PAWLCYN helped make the Napa Valley a destination for food and wine in Northern California when she opened Mustards Grill. Today, her trio of restaurants—Mustards Grill, Cindy's Backstreet Kitchen, and Brassica—are as much loved among locals as they are popular with visitors. She is also the culinary partner for the Monterey Bay Aquarium. Cindy was featured on Bravo's Top Chef Masters series, and was a guest judge on the first season of Top Chef. She appeared in Michael Chiarello's Napa on PBS and View from the Bay, as well as the documentary Cat's in the Kitchen. Cindy has twice been nominated for Best Chef in California by the James Beard Foundation and is the recipient of the Robert Mondavi Award for Culinary Excellence. She received a James Beard award for The Mustards Grill Napa Valley Cookbook and is also the author of Fog City Diner Cookbook and Big Small Plates.
Praise For Cindy's Supper Club: Meals from Around the World to Share with Family and Friends…
 "Pawlcyn's book offers a world of flavors."
—Chicago Tribune
"This magical book will transport you across the globe in the company of one of our great chefs, with delicious recipes from some of the most interesting kitchens in the world. A total delight!"
—Gleb Baxter, artist and illustrator for
The New Yorker
"Cindy Pawlcyn is one of the great masters of making deliciousness as well as telling great stories, bringing us all into the deep culinary travels she is passionate about! This book is addictive if you want to cook and eat something exciting and amazing."
—Elizabeth Falkner, chef and author of Demolition Desserts and Cooking Off the Clock
or
Not Currently Available for Direct Purchase