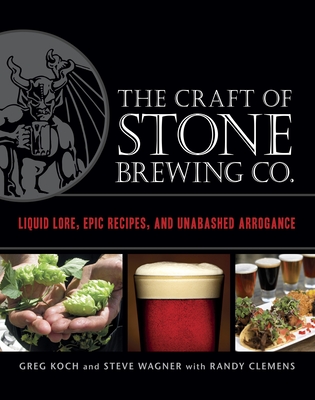 The Craft of Stone Brewing Co.
Liquid Lore, Epic Recipes, and Unabashed Arrogance
Hardcover

* Individual store prices may vary.
Description
From the craft favorite brewery, a guide to making the best beer at home, with accompanying recipes and insider lore. 

Since its inception in 1996, Stone Brewing Co. has been the fastest growing brewery in the country. Beer lovers gravitate to its unique line-up, which includes favorites such as Stone IPA and Arrogant Bastard Ale. This insider's guide focuses on the history of Stone Brewing Co., and shares homebrew recipes for many of its celebrated beers including Stone Old Guardian Barley Wine, Stone Smoked Porter, and Stone 12th Anniversary Bitter Chocolate Oatmeal Stout. In addition, it features recipes from the Stone Brewing World Bistro & Gardens like Garlic, Cheddar, and Stone Ruination IPA Soup, BBQ Duck Tacos, and the legendary Arrogant Bastard Ale Onion Rings. With its behind-the-scenes look at one of the leaders of the craft beer scene, The Craft of Stone Brewing Co. will captivate and inspire legions of fans nationwide.
Praise For The Craft of Stone Brewing Co.: Liquid Lore, Epic Recipes, and Unabashed Arrogance…
"Owners and co-founders Steve Wagner and Greg Koch share their story of how they got into beer making and ultimately founded Stone Brewing. The story is fascinating and written like they are just sitting on the bar stool next to you."
—Seattle Weekly, Cooking the Books, 1/30/12

"The advice sections of the book are exceptionally strong. The beer-food pairing section is insightful, giving examples of what and what not to do. The cellaring tips explain how to properly age your beer without turning your bottles into a skunky mess. This would make a great gift for a home brewer or beer snob in your life. The writing is easy to read, and it's like a knowledgeable friend is guiding you through the world of beer."
—City Book Review, 1/13/12

"One of this fall's most interesting beer books, The Craft of Stone Brewing Co., tells the story of how Stone's founders, Steve Wagner and Greg Koch, created the aggressively hopped, intensely flavored beers that turned their San Diego company into one of America's iconic craft breweries." 
—Food & Wine, 10/13/11  

"Greg and Steve do more than just brew the best beer in the world: they are an inspiration to ignore conventional wisdom, take creative risks, and make awesome things. This book is more than an inside look at how they used that philosophy to found Stone Brewing; it's filled with food recipes from their Bistro and beer recipes from their brewery. Whether you're a novice homebrewer, or routinely make 10 gallon batches with hops you grew in your back yard, this book will inspire you to make epic beer, epic food, and unleash your inner arrogant bastard." 
—Wil Wheaton Actor, Author, Homebrewer

"It's a fantastic cookbook, and if you're crazy for the flavors of that certain chili sauce then you really need the book. Really. It's wonderful. Get it and make the Piquant Pulled Pork right away. You won't regret it." 
—Matt Armendariz, One for the Table, Must Buy Cookbooks of 2011 

"All-Time Top Brewery on Planet Earth. The most popular and highest-rated brewery . . . ever." 
—BeerAdvocate
 
"Not for the faint of heart, [Stone's] bold brews have a strong and fast-growing fan base."
—Bon Appétit
 
"Stone Brewing makes aggressive beer--good news for those tired of the fizzy yellow stuff."
—Los Angeles Times
 
"San Diego [is] the new beer capital of the United States. Stone exemplifies the local approach, with aggressively hopped but completely drinkable brews."
—Men's Journal      
 
"Stone Brewing's 'extreme' beers are like standard ales in overdrive."
—Food & Wine  
 
"[Stone] has no interest in going mainstream if that means watering down the product."
—Inc.
 
"[Stone] is one of the best-known West Coast brewers with one of the most devoted cult followings this side of The Grateful Dead."
—Beverage World
 
"Stone Brewing Company from San Diego is arguably the most notorious player on America's exhilarating craft brewing scene . . . ."
—The Publican
Ten Speed Press, 9781607740551, 208pp.
Publication Date: October 18, 2011
About the Author
Greg Koch and Steve Wagner are mad passionate about great beer. As the co-founders of Stone Brewing Co., they've become recognized leaders in the craft brewing industry. Visit www.stonebrew.com for more.
 
A graduate of the California School of Culinary Arts and a BJCP Recognized Beer Judge, Randy Clemens has written for Gourmet, Saveur, BeerAdvocate, Draft, Imbibe, Los Angeles, and Wine Enthusiast. He is also the author of The Sriracha Cookbook and is the Public Relations Coordinator at Stone Brewing Co.
Book Videos
or
Not Currently Available for Direct Purchase