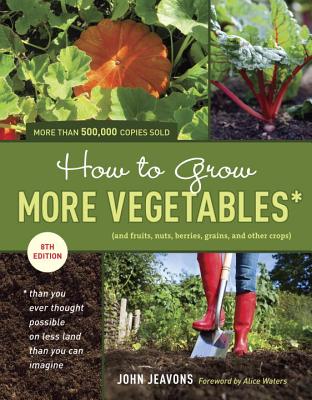 How to Grow More Vegetables: And Fruits, Nuts, Berries, Grains, and Other Crops Than You Ever Thought Possible on Less Land Than You Can Imagine (Paperback)
And Fruits, Nuts, Berries, Grains, and Other Crops Than You Ever Thought Possible on Less Land Than You Can Imagine
Ten Speed Press, 9781607741893, 239pp.
Publication Date: February 7, 2012
* Individual store prices may vary.
or
Not Currently Available for Direct Purchase
Description
Decades before the terms "eco-friendly" and "sustainable growing" entered the vernacular, How to Grow More Vegetables demonstrated that small-scale, high-yield, all-organic gardening methods could yield bountiful crops over multiple growing cycles using minimal resources in a suburban environment. The concept that John Jeavons and the team at Ecology Action launched more than 40 years ago has been embraced by the mainstream and continues to gather momentum. Today, How to Grow More Vegetables, now in its fully revised and updated 8th edition, is the go-to reference for food growers at every level: from home gardeners dedicated to nurturing their backyard edibles in maximum harmony with nature's cycles, to small-scale commercial producers interested in optimizing soil fertility and increasing plant productivity. Whether you hope to harvest your first tomatoes next summer or are planning to grow enough to feed your whole family in years to come, How to Grow More Vegetables is your indispensable sustainable garden guide.
About the Author
Based in Willits, California, John Jeavons is the director of Ecology Action, an environmental research and education organization. Jeavons has taken his grassroots solutions global, working with such organizations as UNICEF, Save the Children, and the Peace Corps to solve large-scale hunger by revolutionizing small-scale food production in more than 140 countries around the world. To learn more, visit www.growbiointensive.org.
Praise For How to Grow More Vegetables: And Fruits, Nuts, Berries, Grains, and Other Crops Than You Ever Thought Possible on Less Land Than You Can Imagine…
"John's methods are nothing short of miraculous."
—Alice Waters, author, Slow Food crusader, and founder of Chez Panisse restaurant 
 
"Possibly the most detailed explanation of the Biointensive gardening method available." 
—New York Times
 
"There are two kinds of vegetable gardeners--those who garden in beds of some kind and for whom this is the ultimate foundation book, a must-read, and an essential reference. Then there are those who don't garden in beds, for whom it's still a must-read and an essential reference. The full title--How to Grow More Vegetables (and Fruits, Nuts, Berries, Grains, and Other Crops) Than You Ever Thought Possible on Less Land Than You Can Imagine--actually understates the contents. The book is about how to grow pretty nearly all your food and your garden's fertilizer on a modest amount of land."
—Carol Deppe, author of The Resilient Gardener: Food Production and Self-Reliance in Uncertain Times
Advertisement