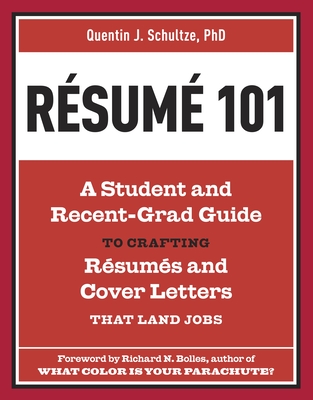 Resume 101
A Student and Recent-Grad Guide to Crafting Resumes and Cover Letters that Land Jobs
Paperback

* Individual store prices may vary.
Description
Minimal job experience? No problem!
 
You've just graduated and are ready to land your first real job after college or high school. But how do you write the first résumé and cover letter of your career if you don't have any previous jobs to list? How do you stand out above the other applicants--including people with more experience who are out of work--with your summer job at the diner, internship at the local paper, or spot on the Ultimate Frisbee team?
 
Dr. Q to the rescue! For two decades, communication professor Quentin Schultze has been teaching résumé-writing to college students and recent graduates, helping them identify their strengths and transferable skills from their unique life experiences--from extracurriculars to part-time jobs to internships to volunteering. With Résumé 101, you'll discover the secrets to composing strong, impressive resumes and cover letters, such as:
 
 
What to include when you lack professional experience
 
How to get great references and recommendations
 
Why to use a summary rather than objective statement
 
When to include hobbies, travel, and technology skills
 
What to do if your GPA isn't sky-high
 
Which designs and basic formats work the best
 
Where to find the perfect verbs and adjectives for a specific job
 
 
With Dr. Q's help, you'll soon have a résumé and cover letter that will show hiring managers who you really are, why you're prefect for your dream job, and why they should choose you.
Praise For Resume 101: A Student and Recent-Grad Guide to Crafting Resumes and Cover Letters that Land Jobs…
"Simply the best guide I have found over several decades of helping college students who are seeking their first professional jobs."
—Dr. Richard C. Wallace, Gainey School of Business, Spring Arbor University

"This is not your typical job-search book for college students and grads. This is a rock-solid, holistic resource that challenges job seekers to optimize their 'labor assets'--their skills, their knowledge, and their personality/character traits--to land a job quickly no matter what kind of job market."
—Jay Block, executive coach and author, 101 Best Ways to Land a Job in Troubled Times 
 
"Should be required reading for anyone entering the workplace. Having a degree is like having a powerful engine for a car--potential ready for application. Until you have a sleek body and fancy wheels no one will appreciate the engine. Résumé 101 will help any graduating student put wheels on their hard work and preparation."
—Dan Miller, author, 48 Days to the Work You Love
 
"A step-by-step, easy-to-follow guidebook. Read it and you'll laugh, you'll take notes, and you'll feel the panic of job-searching ebbing away."  
—Professor Michael A. Longinow, Biola University
 
"Schultze astutely recognizes that smart, effective résumé-writing is tied up with how you see yourself, your work, and the world around you, and he offers clear, practical guidance on how to pull it all together on the written page. This book hits home the important notion that every one of us has the right résumé for the right job in us somewhere, and we need only learn how to summon it up and get it down on paper."  
—David H. Freedman, contributing editor, Inc. magazine
Ten Speed Press, 9781607741947, 144pp.
Publication Date: March 6, 2012
About the Author
Quentin J. Schultze, PhD, professor of communication at Calvin College, has written several academic books and more than a hundred articles for general-interest periodicals. He has been quoted in the Wall Street Journal, Newsweek, US News and World Report, and Fortune and interviewed by CNN, NBC, and NPR. He speaks at and consults for businesses, nonprofits, trade associations, and universities. He lives in Grand Rapids, Michigan. Visit quentinschultze.com and resumes4collegestudents.com.
or
Not Currently Available for Direct Purchase