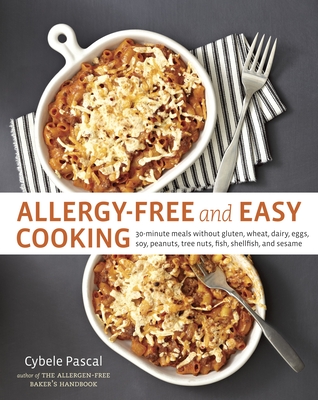 Allergy-Free and Easy Cooking (Paperback)
30-Minute Meals without Gluten, Wheat, Dairy, Eggs, Soy, Peanuts, Tree Nuts, Fis h, Shellfish, and Sesame: A Cookbook
Ten Speed Press, 9781607742913, 176pp.
Publication Date: December 4, 2012
* Individual store prices may vary.
Description
A collection of 75 completely allergen-free recipes ready in 30 minutes or less, perfect for food allergic kids and busy professionals who need to get meals on the table swiftly.

With her acclaimed cookbooks and loyal following, Cybele Pascal has been pioneering allergy-friendly cooking for more than a decade. As the mother of two kids with food allergies, Pascal knows the value of weeknight-friendly allergy-free recipes that can be prepped and on the table in half an hour without sacrificing flavor or texture. Through adept ingredient substitutions and easy-to-follow techniques, Pascal excels at providing enticing recipes that steer clear of the top eight allergens and appeal  to home cooks who need to avoid dairy, eggs, wheat, soy, peanuts, tree nuts, fish, shellfish, and sesame.

Pascal's allergy-friendly versions of favorites like Creamy Mac 'n' "Cheese," Buffalo Wings with Ranch Dressing, Chicken Mole Soft Tacos, Gnocchi, Deep Dish Pizza with Italian Sausage, and Beef and Broccoli Stir-Fry have all the appeal of the originals, and are perfect for food allergic kids and busy professionals. Allergy-Free and Easy Cooking is a delightful solution that will help you get flavorful, safe meals on the table swiftly.
About the Author
CYBELE PASCAL is the author of two bestselling cookbooks, The Allergen-Free Baker's Handbook and The Whole Foods Allergy Cookbook, and has appeared on The Martha Stewart Show, the Food Network, the Today show, Good Morning America Health, PBS, and NPR. She is a leading blogger in the field with an award-winning website, and she lectures and teaches nationally. Pascal serves as a Celebrity Ambassador Who Cares for FAAN/FAI (Food Allergy and Anaphylaxis Network) and is the founder and president of Cybele's Free-to-Eat, a line of gluten-free foods that are free of the top eight allergens. For more information, visit www.cybelepascal.com.
Praise For Allergy-Free and Easy Cooking: 30-Minute Meals without Gluten, Wheat, Dairy, Eggs, Soy, Peanuts, Tree Nuts, Fis h, Shellfish, and Sesame: A Cookbook…
"Cybele's recipes evoke comfort and delicious tradition with the added bonus that they are gluten-free. There is something for the whole family."
—Aran Goyoaga, author of Small Plates and Sweet Treats and creator of the blog Cannelle et Vanille
 
"When your child is diagnosed with food allergies, your first question is likely, 'what will I feed them?' In this book, Cybele Pascal provides allergy-friendly comfort foods and traditional takeout dishes that your family can enjoy once again. The best part is this cookbook is designed for busy parents on the go; you will be able to make these recipes in thirty minutes or less!"
—Lynda Mitchell, President of the Kids with Food Allergies Foundation
 
"This book proves that the joys of cooking and eating exist for all of us, regardless of any food restrictions we may have. Cybele Pascal has, once again, given us everything we need to make allergen-free, easy-to-make, and (most importantly) super-delicious meals. Everybody eats; everybody wins!"
—Peter Reinhart, co-author of The Joy of Gluten-Free, Sugar-Free Baking
 
"This is a great book that will make the lives of gluten-free mothers everywhere easier!"
—Elana Amsterdam, author of The Gluten-Free Almond Flour Cookbook and creator of ElanasPantry.com
 
"Cybele's latest book, Allergy-Free and Easy Cooking, is a superb resource for our family. The meals are visually appealing, healthy, and simple to create. Gone are boring dinners! Thank you, Cybele, for putting zest back in our mealtimes."
—Nicole Smith, founder of AllergicChild.com
 
"Who would believe dairy-free, gluten-free mac 'n' cheese; shrimp-free paella; or South Asian cuisine with no wheat, fish, or soy? There is no deprivation here—Cybele Pascal opens a broad and delicious world of extraordinary possibilities. With this wide-ranging cookbook, Pascal seals her status as the brilliant wizard of the allergy-friendly kitchen."
—Gwen Smith, founder and editor of Allergic Living magazine