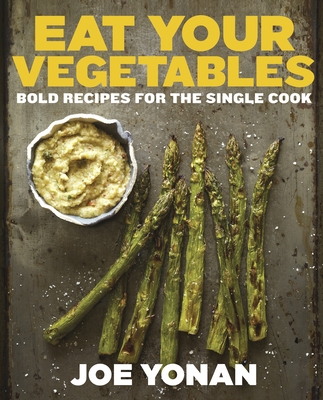 Eat Your Vegetables (Hardcover)
Bold Recipes for the Single Cook [A Cookbook]
Ten Speed Press, 9781607744429, 204pp.
Publication Date: August 6, 2013
* Individual store prices may vary.
Description
A collection of eclectic vegetarian and vegan recipes for singles as well as lone vegetarians in meat-eating households, from the beloved James Beard award-winning Washington Post editor and author of Serve Yourself. 

Whether you're­­ a single vegetarian, an omnivore who's looking to incorporate more vegetables in your life, or a lone vegetarian in a meat-eating household, you know the frustrations of trying to shop, plan, and cook for one.

With Eat Your Vegetables, award-winning food editor of The Washington Post and author of the popular column Cooking for One, Joe Yonan serves up a tasty book about the joys of solo vegetarian cooking. With 80 satisfying and globally-inspired vegetarian, vegan, and flexitarian recipes such as Spinach Enchiladas, Spicy Basil Tofu Fried Rice, and One-Peach Crisp with Cardamom and Honey, Yonan arms single vegetarians with easy and tasty meal options that get beyond the expected. In addition to Yonan's fail-proof recipes, Eat Your Vegetables offers practical information on shopping for, storing, and reusing ingredients, as well as essays on a multitude of meatless topics, including moving beyond mock meat and the evolution of vegetarian restaurants.

The perfect book for anyone looking to expand their vegetarian and produce-based repertoire, Yonan's charming, personable voice and unfussy cooking style encourage home cooks—both new and experienced—to take control in the kitchen and craft delicious veggie-centric meals for one.
About the Author
Joe Yonan is the James Beard award-winning author of Serve Yourself: Nightly Adventures in Cooking for One, which Serious Eats, the San Francisco Chronicle, and blogger David Lebovitz named one of their favorite books of the year. The book was an outgrowth of his monthly column, Cooking for One, for The Washington Post, where he is Food and Travel editor. Joe holds a professional chef's diploma from the Cambridge School of Culinary Arts outside Boston and a bachelor of journalism from the University of Texas at Austin. He lives in Washington, DC.
Praise For Eat Your Vegetables: Bold Recipes for the Single Cook [A Cookbook]…
"I love everything about this book: the concept, narrative, context, voice, look, and feel. Then there are the recipes—so inviting, I just want to start at the beginning and cook my way through the entire batch. And as if we need a bonus, Joe's personal warmth and intelligence shine through all of this like a big embrace." 
—Mollie Katzen, author of The Moosewood Cookbook and The Heart of the Plate
 
 
"Joe Yonan is a kindred spirit; he too is a meat lover who's embarked on a vegetable-forward adventure and made more room for plants on the plate. But he's done much more in Eat Your Vegetables: Joe invites us along for a delicious ride that includes the highs and lows of edible gardening and the joy of cooking for one (with smart, practical tips for managing leftovers and minimizing food waste), wrapped in an impassioned plea to get off the couch and—yes!—into the kitchen." 
—Kim O'Donnel, author of The Meat Lover's Meatless Celebrations and The Meat Lover's Meatless Cookbook
 
 
"It's hard to write inspired recipes that are simple, but that's just what Joe Yonan has done in Eat Your Vegetables. In addition to good food, Joe offers great advice for anyone looking to cook more often and more successfully. Read his essay on how to use a recipe and you will become a better cook even before you get into the kitchen." 
—Jack Bishop, Editorial Director, America's Test Kitchen, and author of Vegetables Every Day
 
 
"I'm thrilled to have Joe's creative collection of recipes that serve vegetables in perfect portions for quick meals by myself—it even includes a sweet selection of desserts for one (which is great because I don't have to share!). With Eat Your Vegetables as your guide, you'll be prowling the produce bins with a fresh eye on flavor."
—David Lebovitz, author of Ready for Dessert and The Sweet Life in Paris