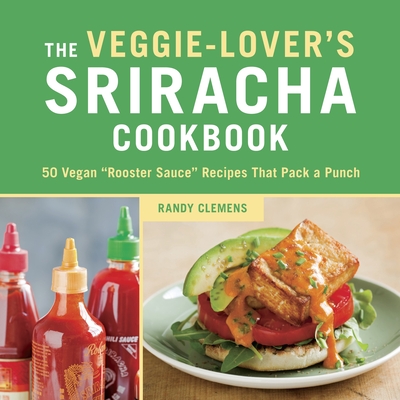 The Veggie-Lover's Sriracha Cookbook (Hardcover)
50 Vegan "Rooster Sauce" Recipes that Pack a Punch
Ten Speed Press, 9781607744603, 140pp.
Publication Date: July 2, 2013
* Individual store prices may vary.
Description
A vegan/vegetarian companion to the successful Sriracha Cookbook, featuring 50 inventive, vegetable-based recipes with gluten-free variations. 

Devoted Sriracha addicts know that this fiery red condiment adds the perfect spicy kick to their favorite foods. But for those who want to take it to the next level, Randy Clemens shows how versatile this garlicky, pungent sauce can be when paired with the almighty veggie in everything from breakfast to dessert, and appetizers to entrées.

These delicious plant-based recipes—from Stuffed Sriracha 'Shrooms, Sriracha-Cauliflower Mac 'n' Cheeze, and Cajun Quinoa Cakes with Lemon-Dill-Sriracha Rémoulade to Maple-Sriracha Doughnuts and Watermelon Sriracha Sangria—showcase an exciting range of fruits, grains, and veggies, without the processed fake meat found in many vegan recipes. Featuring 50 flavor-packed, inventive combinations of vegetables and Sriracha (with notes on how to adapt them for a gluten-free diet), The Veggie-Lover's Sriracha Cookbook will take your rooster sauce obsession to bold, new heights.
About the Author
RANDY CLEMENS is the author of the best-selling Sriracha Cookbook and coauthor of The Craft of Stone Brewing Co. A graduate of the California School of Culinary Arts, Randy was previously an associate editor of Los Angeles magazine's Digest blog and has written for numerous food publications including Gourmet, Saveur, Wine Enthusiast, Imbibe, Draft, Edible Westside, and BeerAdvocate. He lives in Southern California. Visit randyclemens.com and srirachabook.com for more information.
Praise For The Veggie-Lover's Sriracha Cookbook: 50 Vegan "Rooster Sauce" Recipes that Pack a Punch…
 
 "I'm not a vegan.  I'm not even a vegetarian. That being said, I love this book.  It's packed with creative, tasty ways to cook with (and make your own) Sriracha sauce. If you're a fan of the combustible-yet-delicious sauce known as Sriracha, these recipes are for you."
—Matt Inman, creator of TheOatmeal.com
 
"If you need a jolt of veg-centric inspiration with Sriracha, piquant darling of the condiment world, this is your book.
Randy insightfully works all sorts of new culinary angles, showing the versatility of the much-loved 'rooster sauce' beyond the squeeze."
—Heidi Swanson, author of Super Natural Every Day and creator of 101Cookbooks.com
 
"Randy has forever changed the culture of Sriracha, taking us beyond the bottle to explore the freshest vegetables of the season, cooking vibrant meals loaded with flavors and textures. His fresh recipes make each bite exciting, satisfying, fun, and memorable with the lingering, spicy kick of Sriracha. Gotta love him for that!"
—Todd Porter and Diane Cu, WhiteOnRiceCouple.com
 
"I always have a bottle of Sriracha in my fridge and use it on everything, so the first thing I did with this book was make my own batch. Then I proceeded through the chapters, finding ways I never imagined before to bring this beloved elixir into my cooking. I salute Randy for daring to go veg, and for writing a book that we carnivores will also enjoy. He knows better than anyone that Sriracha unites us all."
—Sara Kate Gillingham-Ryan, founding editor, TheKitchn.com