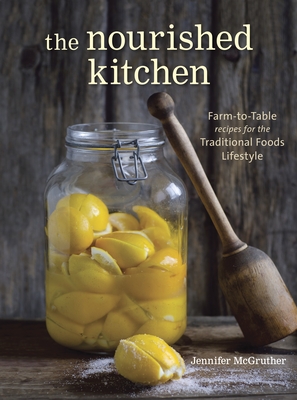 The Nourished Kitchen
Farm-to-Table Recipes for the Traditional Foods Lifestyle Featuring Bone Broths, Fermented Vegetables, Grass-Fed Meats, Wholesome Fats, Raw Dairy, and Kombuchas
Paperback

* Individual store prices may vary.
Description
A cookbook from the author of the popular website Nourished Kitchen, featuring over 160 recipes based on the "traditional foods" philosophy of eating, which emphasizes whole grains, dairy, red meat, organ meats, and fermented foods.  

     The traditional foods movement is a fad-free approach to cooking and eating that emphasizes nutrient-dense, real food, and values quality, environment, and community over the convenience of processed, additive-laden products that are the norm on grocery store shelves. 
     Based on the research of Weston A. Price, who studied the diets of indigenous peoples to understand the relationship between nutrition and health, a traditional foods diet avoids processed ingredients, but allows meat, animal fat, and grains. It embraces cultured dairy, such as kefir and yogurt, that contain beneficial bacteria; fermented foods, such as sauerkraut and kombucha, that are rich in probiotics; and organ meats that are packed with vitamins and minerals. It also celebrates locally grown foods. By choosing ingredients from nearby sources, you create a stronger connection to your food, and have a better understanding what you're eating and how it was produced. 
     In The Nourished Kitchen, Jennifer McGruther guides you through her traditional foods kitchen and offers more than 160 recipes inspired by  the seasons, land, and waters around her. In the morning, fuel up with Eggs Poached in Fiery Tomato Sauce. On a hot summer day, Cucumber Salad with Dill and Kefir is a cooling side dish, and on a chilly fall evening, Barley in Broth with Bacon and Kale offers comfort and warmth. Old-Fashioned Meat Loaf with Gravy makes a hearty family meal, while Chicken in Riesling with Peas can be the centerpiece of an elegant supper. Satisfy your sweet tooth with Maple-Roasted Pears, and quench your thirst with naturally fermented Vanilla Mint Soda. With the benefit of Jennifer's experience, you can craft a loaf of Whole Wheat and Spelt Sourdough Bread and stock your kitchen with Spiced Sour Pickles with Garlic.
     The Nourished Kitchen not only teaches how to prepare wholesome, nourishing foods, but also encourages a mindful approach cooking and a celebration of old-world culinary traditions that have sustained healthy people for millennia. Whether you're already a practitioner of the traditional foods lifestyle or simply trying to incorporate more natural, highly nutritious foods into your routine, you will find plenty to savor in The Nourished Kitchen.
Praise For The Nourished Kitchen: Farm-to-Table Recipes for the Traditional Foods Lifestyle Featuring Bone Broths, Fermented Vegetables, Grass-Fed Meats, Wholesome Fats, Raw Dairy, and Kombuchas…
"I love this book. It's gorgeous, informed, and filled with wisdom based on old ways and common sense—the wisdom that we crave. At the same time, it is filled with flavor and style. Jennifer's food is food that I already love, plus there's new food I am ready to try."
—Deborah Madison, author of Vegetable Literacy
 
"Jennifer McGruther brings a wealth of farmhouse wisdom to life in The Nourished Kitchen. Her northern European culinary perspective is a perfect match for her home in the mountains of Colorado, a beacon for how to eat seasonally and locally in a place where the snow flies six months of the year."
—Hank Shaw, author of Duck, Duck, Goose and creator of the award-winning blog Hunter Angler Gardener Cook
 
"Jennifer McGruther's road map to culinary integrity delivers us from wandering through the bewilderment of industrial, nutrient-deficient, supermarket detours. The Nourished Kitchen is as essential in the modern kitchen as a slow cooker and electric mixer."
—Joel Salatin, farmer, lecturer, and author of Folks, This Ain't Normal
 
"What an inspirational book! Jennifer McGruther takes us from the local community and the garden to the kitchen and the table with a collection of delicious, nutritious, traditionally prepared recipes. The Nourished Kitchen deserves a place of honor on your kitchen counter."
—Sally Fallon Morell, president, the Weston A. Price Foundation
 
"Jennifer McGruther is great at showing how healthy, nourishing food can be mouthwatering  and delicious. This book is full of practical wisdom and inspired recipes (including lots of fermented foods and beverages). Jennifer makes you want to get into the kitchen."
—Sandor Ellix Katz, author of The Art of Fermentation and Wild Fermentation
Ten Speed Press, 9781607744689, 320pp.
Publication Date: April 15, 2014
About the Author
JENNIFER MCGRUTHER is a food educator and the author and creator of the award-winning traditional foods website, Nourished Kitchen (www.nourishedkitchen.com). She teaches workshops on traditional foods, fermentation, and food activism. Jennifer lives with her husband and son in the central mountains of Colorado where she and her husband started and managed a farmers market for seven years. Her work emphasizes traditional, from-scratch cooking with a focus on farm-to-table recipes.
or
Not Currently Available for Direct Purchase