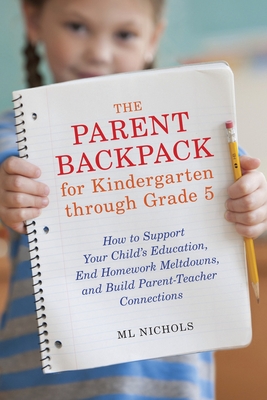 The Parent Backpack for Kindergarten through Grade 5 (Paperback)
How to Support Your Child's Education, End Homework Meltdowns, and Build Parent-Teacher Connections
Ten Speed Press, 9781607744740, 320pp.
Publication Date: July 23, 2013
* Individual store prices may vary.
Description
Finally, a book that demystifies our daunting education system by giving parents the insights and strategies they need to build positive relationships with teachers and connect to their children's learning in productive ways.
 
Involved Parents = Better Students

How do you ensure your child gets the best education possible when U.S. schools have become overburdened, test-driven institutions that rank only average worldwide? Decades of research confirm that when parents engage with their children's learning, kids do better in school—and life. This straight-talking guide helps you:

• understand the critical role you play in your child's education,
• connect with educators in respectful ways,
• encourage a love of reading in your kids,
• minimize homework meltdowns and disorganization,
• support students who struggle academically,
• help children navigate social situations and bullying, and
• fuel your child's mind and body for learning.

Parent involvement looks different for every family and every child. Packed with real stories and tested strategies, The Parent Backpack demystifies our complex education system and gives you the insights you need to help your kids thrive.
About the Author
ML Nichols is director of The Parent Connection, a nonprofit parent education group. While serving in leadership roles in her own district and on Parenting magazine's Mom Congress on Learning and Education, she launched www.theparentbackpack.com. ML lives in the Boston area with her husband and two daughters.
Praise For The Parent Backpack for Kindergarten through Grade 5: How to Support Your Child's Education, End Homework Meltdowns, and Build Parent-Teacher Connections…
A practical guide for parents of elementary-school children, The Parent Backpack explains how to muddle through an (often mystifying) educational system and help your kids thrive. With how-to advice on topics such as choosing a kindergarten, writing an effective note to your child's teacher, or teaching good study habits, Nichols (the director of a non-profit parent education group) has packed the book with helpful tips and example scripts for conversations and e-mails. Each chapter ends with a list of "Top 10 Takeaways" for readers to refer back to easily.
—Parade , July 2013

"A smart, wise, and practical book every parent of a young child should own. What a trove of information; read this beautifully composed guide, sleep well, and enjoy with confidence your child's education."
—Edward Hallowell, MD, author, The Childhood Roots of Adult Happiness

"ML Nichols has given parents a long-overdue map through the 'minefield' of elementary education: where to turn and what to say and do (in and out of school) to become an effective advocate for your child."
—Jim Trelease, author, The Read-Aloud Handbook

"As a psychologist and parent of three elementary-age children, I highly recommend this book. Its concrete strategies empower you to build strong partnerships with teachers and tap your child's natural motivation to learn."
—Dr. Donna Pincus, author, Growing Up Brave

"In this approachable guide, Nichols offers practical advice to parents on everything from how to select a kindergarten program to how to write appropriate e-mails to your child's teacher. Nichols, the director of the Parent Connection, a nonprofit parent education group, has extensive knowledge of the ins and outs of the early years of a child's education. All parents will benefit from the early chapters providing specifics about the current generation of elementary schools, and suggestions for what parents can do to ensure their children's success within the changing system." 
—Publisher's Weekly

"Every so often, I run across a book so good it belongs on every family's shelf. That's the case with The Parent Backpack. Author ML Nichols, director of the nonprofit, The Parent Connection, has written a guide for surviving and thriving in elementary school. She explains the system—from testing to special education to how administrators choose your kids' next teacher. Best of all, she outlines what to expect academically at different ages, defines fancy edu-terms, and offers advice for advocating for your child. Hopefully, you won't need to contact the teacher and principal often—but if you do, this book provides fantastic strategies."
—Kristen Kemp, Parents Magazine