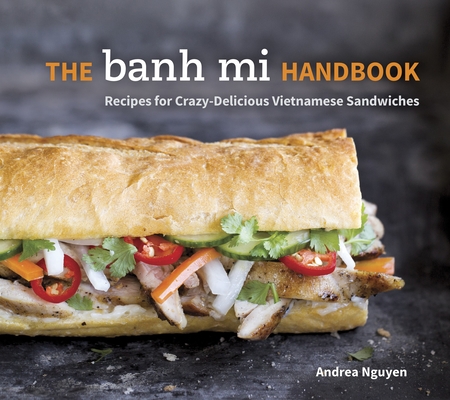 The Banh Mi Handbook: Recipes for Crazy-Delicious Vietnamese Sandwiches (Hardcover)
Recipes for Crazy-Delicious Vietnamese Sandwiches
Ten Speed Press, 9781607745334, 125pp.
Publication Date: July 8, 2014
Description
A cookbook devoted to the beloved Vietnamese sandwich, with 50 recipes ranging from classic fillings to innovative modern combinations. Created by Vietnamese street vendors a century or so ago, banh mi is a twist on the French snack of pate and bread that is as brilliant as it is addictive to eat. Who can resist the combination of crisp baguette, succulent filling, and toppings like tangy daikon and carrot pickles, thin chile slices, refreshing cucumber strips, and pungent cilantro sprigs? You'll have ample opportunities to customize your sandwich with filling options such as grilled pork, roast chicken, and "the special"--a delectable combination of garlicky pork, liver pate, and Vietnamese cold-cuts. Opening a new realm of flavor for anyone tired of standard sandwich fare, The Banh Mi Handbook presents more than fifty recipes and numerous insights for crafting a wide range of sandwiches, from iconic classics to modern innovations, including: Crispy Drunken Chicken
Shrimp in Caramel Sauce
Grilled Lemongrass Pork
Beef and Curry Sliders
Coconut Curry Tofu
Lettuce Wrap Banh Mi Respected food writer Andrea Nguyen's simple, delicious recipes for flavor-packed fillings, punchy homemade condiments, and crunchy, colorful pickled vegetables bring the very best of Vietnamese street food to your kitchen.
About the Author
ANDREA NGUYEN is a celebrated food writer and teacher whose work appears in the Los Angeles Times, Wall Street Journal, and Saveur, where she is also a contributing editor. Her previous books, including Into the Vietnamese Kitchen, Asian Dumplings, and Asian Tofu, were highly acclaimed and nominated for James Beard and IACP cookbook awards. She lives in the San Francisco Bay Area. Visit www.vietworldkitchen.com for more.
Advertisement