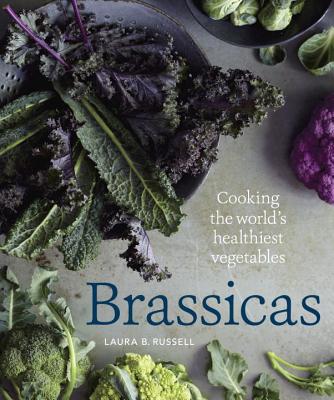 Brassicas
Cooking the World's Healthiest Vegetables: Kale, Cauliflower, Broccoli, Brussels Sprouts and More [A Cookbook]
Hardcover

* Individual store prices may vary.
Description
A cookbook showcasing 80 recipes for the most popular of the world's healthiest vegetables--kale, cauliflower, broccoli, brussels sprouts, cabbage, leafy greens, and more--tailored to accommodate special diets such as gluten-free, dairy-free, vegetarian, and vegan.

The eighty inventive, flavorful recipes presented in Brassicas play to each vegetable's strengths, favoring techniques that celebrate their intrinsic flavors instead of masking them by blanketing under layers of cheese or boiling. Think of the inherent sweetness that can be coaxed from perfectly roasted Brussels sprouts, or the bright, peppery punch of a watercress and arugula salad.

Straightforward cooking methods like roasting, sautéing, pickling, and wilting transform brassicas into satisfying dishes, such as Cauliflower Hummus, Spicy Kale Fried Rice, Roasted Brussels Sprouts with Parmesan Crust, and Broccoli and Pepper Jack Frittata. These recipes also maintain the vegetables' stellar nutritional properties. High in vitamins and minerals, fiber, phytochemicals, and glucosinolates, brassicas have been shown to act as antioxidants, anticarcinogenics, anti-inflammatories, and liver detoxifiers, and have many other health benefits.

The beauty of these "superfoods" is on full display in Brassicas; exquisite photographs of brassica varieties in their raw forms—roots, stems, leaves, flowers, and buds—can be found throughout, helping you identify Lacinato kale from curly kale or mustard greens from collard greens at the farmers' market or grocery store.

For those who observe certain dietary restrictions, author Laura B. Russell provides alternatives and tips to accommodate gluten-free, soy-free, vegetarian, and vegan diets. Equipped with complete selection, storage, washing, and prepping instructions, you can enjoy more of these nutritional powerhouses—from the commonplace kale to the more adventurous bok choy or mizuna—in your everyday meals.
Praise For Brassicas: Cooking the World's Healthiest Vegetables: Kale, Cauliflower, Broccoli, Brussels Sprouts and More [A Cookbook]…
"This is the book that will show you why brassicas are among your best friends in the kitchen. And when you see how gorgeous their portraits are, you'll never look at cabbage or kale the same way again." —Deborah Madison, author of Vegetable Literacy

"Cabbage family vegetables are nutritional powerhouses that are inexpensive and readily available. They are rich in phytonutrients that protect against cancer and other serious diseases. This book gives quick and simple recipes for turning brassicas into culinary delights. I recommend it highly."
—Andrew Weil, MD, founder and director of the Arizona Center for Integrative Medicine and the author of True Food

"Laura Russell's inspired book dispels this often-maligned family of vegetables. Forget grandma's simply boiled cabbage or overcooked cauliflower. I want to start with Charred Brussels Sprouts with Pancetta and Fig Glaze, and savor the Spanish Tortilla with Mustard Greens. What a gem of a book." —Diane Morgan, author of Roots

"Finally, a book that gives my favorite vegetables their due! Laura Russell shows that kale, cauliflower, broccoli, and Brussels sprouts deserve a starring role at the center of the plate. Laura's pitch-perfect recipes—Roasted Broccolini with Winey Mushrooms, anyone?—stand to make a believer out of any cook who picks up this book." —Joe Yonan, author of Eat Your Vegetables



Ten Speed Press, 9781607745716, 176pp.
Publication Date: April 8, 2014
About the Author
LAURA B. RUSSELL is the author of The Gluten-Free Asian Kitchen and IACP Food Writing Award winner. From 2008-2016, she wrote a monthly column called "Gluten Freedom", for the Oregonian's FoodDay. She continues to develop recipes and articles for many national publications, including Fine Cooking, Milk Street, Delicious Living, Edible Communities, Natural Health, and more. Visit her at LauraBRussell.com.
or
Not Currently Available for Direct Purchase