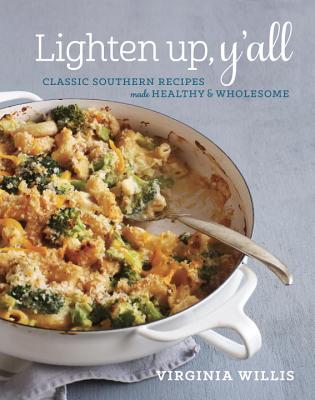 Lighten Up, Y'all (Hardcover)
Classic Southern Recipes Made Healthy and Wholesome [A Cookbook]
Ten Speed Press, 9781607745730, 232pp.
Publication Date: March 3, 2015
* Individual store prices may vary.
Description
2016 James Beard Award winner and 2016 International Association of Culinary Professionals (IACP) nominee for Best American Cookbook 

A collection of classic Southern comfort food recipes--including seven-layer dip, chicken and gravy, and strawberry shortcake--made lighter, healthier, and completely guilt-free.
 
Virginia Willis is not only an authority on Southern cooking. She's also a French-trained chef, a veteran cookbook author, and a proud Southerner who adores eating and cooking for family and friends. So when she needed to drop a few pounds and generally lighten up her diet, the most important criterion for her new lifestyle was that all the food had to taste delicious.

The result is Lighten Up, Y'all, a soul-satisfying and deeply personal collection of Virginia's new favorite recipes. All the classics are covered—from a comforting Southern Style Shepherd's Pie with Grits to warm, melting Broccoli Mac and Cheese to Old-Fashioned Buttermilk Pie. Each dish is packed with real Southern flavor, but made with healthier, more wholesome ingredients and techniques. Wherever you are on your health and wellness journey, Lighten Up, Y'all has the recipes, tools, and inspiration you need to make the nourishing, down-home Southern food you love.
About the Author
VIRGINIA WILLIS is the author of the acclaimed cookbooks Bon Appétit, Y'all; Basic to Brilliant, Y'all; Grits; and Okra. Willis is a columnist for FoodNetwork.com, a contributing editor to Southern Living, and was named one of "Seven Food Writers You Need to Know" by the Chicago Tribune. She lives in Atlanta, Georgia.
Praise For Lighten Up, Y'all: Classic Southern Recipes Made Healthy and Wholesome [A Cookbook]…
"As a Southerner, I appreciate that Virginia makes real Southern food with real ingredients. A natural teacher, Virginia helps to dispel the myth that all Southern food is fatty and not good for you. She also reminds us that being healthy isn't always about saying no—her delicious recipes are all about making good choices and saying yes!" 
— Carla Hall, cohost of The Chew and author of Carla's Comfort Food

"In Lighten Up, Y'all, Virginia Willis reminds us that Southern cooking is not all about overindulgence, butter, and fried food; rather, Southern food emphasizes the delicate ingredients that are indigenous to our region. She lightens up the dishes we love while staying true to the flavors we desire." 
— John Besh, chef and author of Cooking from the Heart

Virginia Willis's passion for the Southern food she grew up with, her top-notch culinary expertise, and her personal journey to be healthier have culminated in this wonderful book, which celebrates the fresh diversity of Southern cooking. With one incredible recipe after another, it is a real gift for health-minded food lovers!" 
— Ellie Krieger MS, RD, host of Food Network's Healthy Appetite and author of Weeknight Wonders

"With Lighten Up, Y'all, Virginia Willis opens the door to a new way of cooking, which focuses on the bountiful fresh fruits and vegetables that are the true staples of the Southern larder. She writes recipes that will make you feel good cooking in the kitchen, and feel even better eating the results." 
— Hugh Acheson, James Beard Award–winning chef and author of A New Turn in the South

"Virginia Willis has always been both hilariously funny and incredibly astute in her Southern taste. Her recipes, like Beer-Battered Shrimp with Spicy Ketchup, Broccoli and Cheese "Rice Grits," and Miso-Glazed Catfish with Edamame and Spicy Winter Greens, ring the bell for us. They are creative, nourishing, comforting, and easy to cook at leisure. Lighten Up, Y'all is a manifesto of gracious living in any era or place: be cool, eat well and mindfully, and don't forget to drink plenty of water!" 
—Matt Lee and Ted Lee, authors of The Lee Bros. Charleston Kitchen