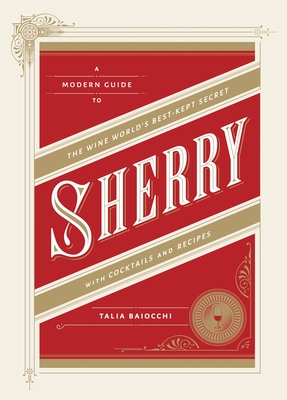 Sherry
A Modern Guide to the Wine World's Best-Kept Secret, with Cocktails and Recipes
Hardcover

* Individual store prices may vary.
Description
There is no other wine that is as versatile, as utterly unique in its range and production methods—and, unfortunately, as misunderstood—as sherry. For centuries, sherry was considered one of the world's great wines, spoken about in the same reverential terms as the finest Bordeaux and Burgundies. But in the last few decades, sherry lost its way—and cheap, cloyingly sweet blends sullied the reputation of what remains one of Spain's oldest and greatest winemaking traditions.

Thankfully, sherry is in the midst of a renaissance. Beloved of sommeliers and bartenders in the craft cocktail community, today sherry is being re-discovered and re-appreciated as an incredible table wine and essential component of many classic cocktails.

Sherry is essential reading for wine or spirits professionals looking to incorporate this complex wine into their menu, and for adventurous drink enthusiasts who are on the hunt for something unexpected. With a comprehensive yet accessible overview of the different styles of sherry, how they are made, and the people and places that produce it, Sherry demystifies what can be a confusing (and seemingly contradictory) wine.

A thorough buyer's guide lists top producers and profiles the very best bodegas and wines. And a whole chapter on sherry-based cocktails illuminates a completely different side of sherry, featuring classic recipes like the Tuxedo and Sherry Cobbler, as well as modern creations from the country's top bartenders (Jim Meehan's East India Negroni, Derek Brown's Kojo Cocktail). More than a dozen recipes for tapas and other delicious foods—best eaten alongside a glass of sherry, of course—round out this wonderfully eclectic, engaging, and inspiring collection.
Praise For Sherry: A Modern Guide to the Wine World's Best-Kept Secret, with Cocktails and Recipes…
"The world's most neglected great wine, sherry is ancient, delicious, and still far too obscure. So it's fortunate to have its story told by Talia Baiocchi, a great young wine-writing talent with her finger on the pulse. Her clear, witty style is perfect for untangling sherry's intricacies—and for demonstrating why a whole new generation of wine lovers (and bartenders!) are so taken with it. The tastefully opinionated producer profiles make this an essential guide for anyone seeking to navigate the ever expanding sherry lists of so many new shops and restaurants." 
— Jordan Mackay, James Beard Award–winning coauthor of Secrets of the Sommeliers

"Witty, fun, relatable . . . These three words are not typically associated with sherry, but perfectly describe Talia Baiocchi and her passion for the wines of the Sherry Triangle. The cocktails and recipes are a welcome (and critical) addition to this stylish, well-written book."
— David Lynch, owner/wine director of St. Vincent Tavern and Wine Merchant and author of Vino Italiano

"A good wine writer mixes some magic and romance into the science of what they love, and Baiocchi's Sherry is no exception."
— Adam Morganstern, Forbes

"[Sherry] offers an enthralling peak inside the rich history of Sherry. From famed cellars in Jerez, Spain to Sherry production and evolution in the U.S. Baiocchi's exploration of the classic and modern sides of Sherry is rounded out with a trove of classic and inspired cocktail recipes [...]"
 — Jonathan Cristaldi, The Tasting Panel
Ten Speed Press, 9781607745815, 272pp.
Publication Date: October 14, 2014
About the Author
TALIA BAIOCCHI is the editor-in-chief of PUNCH, an online magazine focused on wine, spirits, and cocktails. Previously, Baiocchi was the wine editor for Eater and a columnist at Wine Spectator. She has written for the San Francisco Chronicle, Decanter, Bon Appétit, and Wine & Spirits magazine, among others. In 2013, she was named a top new talent in the food and wine world in Forbes magazine's "30 Under 30" feature. She lives in Brooklyn, New York.