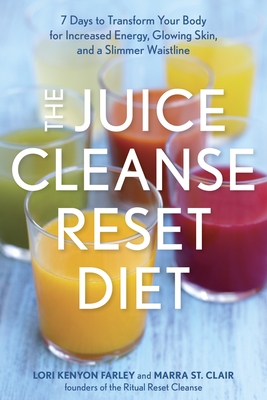 The Juice Cleanse Reset Diet: 7 Days to Transform Your Body for Increased Energy, Glowing Skin, and a Slimmer Waistline (Paperback)
7 Days to Transform Your Body for Increased Energy, Glowing Skin, and a Slimmer Waistline
Ten Speed Press, 9781607745839, 218pp.
Publication Date: December 31, 2013
Description
This groundbreaking juice cleanse and diet based on the wildly popular Ritual Reset Cleanse completely resets your system in just seven days to clear toxins and acidity, reduce cravings, and promote lasting weight loss. First, identify what type of cleanse you need based on your current dietary habits, and then choose from sixty delicious recipes to eat and drink your way to optimal health.

About the Author
Lori Kenyon Farley and Marra St. Clair are the founders of Southern California s popular Ritual Juice Cleanse program and considered among the top cleansing experts in the United States. Lori is a hedge-fund manager turned certified nutritional consultant, and Marra is a certified Pilates instructor, personal trainer, and nutritional consultant. Visit the Ritual website, www.ritualcleanse.com, for more information."
Praise For The Juice Cleanse Reset Diet: 7 Days to Transform Your Body for Increased Energy, Glowing Skin, and a Slimmer Waistline…
"I would recommend this cleanse to anyone. It will reestablish your mindset, filter your internal organs, and get you on the right track to make healthier food choices."
—Patrick Murphy, celebrity fitness coach and weight loss expert
 
"The Juice Cleanse Reset Diet highlights the importance of organic, wholesome nutrition and provides convenient, delicious ways to incorporate greens into our everyday lives." 
 —Andrew Abraham, md, founder and CEO of Orgain, Inc.
 
"These two women are stars."
—Max Goldberg, founder of Pressed Organic Juice Directory
 
"This reset is a powerful tool to help us achieve and maintain optimal health."
—Ashley Koff, RD, nutrition expert and health advocate
 
"By drinking these juices regularly, I've discovered a direct correlation between consuming large amounts of nutrients and live enzymes and increased performance and durability."
—Prince Fielder, professional baseball player
 
"I recommend this cleanse to my clients for its immediate rewards: renewed energy, strengthened immunity, mental clarity, vibrant hair, and smooth skin." 
—Kristan Serafino, celebrity hairstylist and beauty blogger
 
"This cleanse is a great way to jump-start your path to optimal health."
—Tasneem "Dr. Taz" Bhatia, MD, medical director of Atlanta Center for Holistic and Integrative Medicine and author of What Doctors Eat
Advertisement