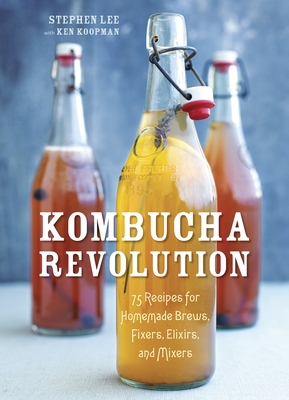 Kombucha Revolution (Hardcover)
75 Recipes for Homemade Brews, Fixers, Elixirs, and Mixers
Ten Speed Press, 9781607745983, 160pp.
Publication Date: June 3, 2014
* Individual store prices may vary.
Description
This guide from the founder of Kombucha Wonder Drink demystifies the process of brewing kombucha at home and offers recipes for using it in infusions, smoothies, cocktails, and more.

The Wonder Drink

Kombucha—a fizzy, fermented tea-based beverage packed with probiotics, vitamins, and enzymes—has home brewers salivating. And who better to guide you through the brewing process than a tea guru with more than forty years of experience under his belt? Stephen Lee, cofounder of Tazo Tea and Stash Tea, turned his attention to fermented tea and founded Kombucha Wonder Drink in 2001. In Kombucha Revolution, Lee reveals the secrets to brewing the perfect batch of kombucha and caring for your very own SCOBY (Symbiotic Culture of Bacteria and Yeast). He also shares his favorite recipes—plus contributions from brewers, bartenders, and chefs like "Kombucha Mamma" Hannah Crum and Wildwood's Dustin Clark—for infusing your brew with fruits, herbs, and spices, and incorporating it into juices, smoothies, sauces, snacks, sweets, and cocktails.

With recipes for Lavender–Green Tea Kombucha, Cranberry Bitters Cocktails, Kombucha Vinegar, Green Smoothies, Kombucha Lime Ceviche,  and Kombucha Pear Sorbet, mixing this healthful brew into your everyday lifestyle has never been so revolutionary.
About the Author
STEPHEN LEE has cofounded and sold two of the country's best-known tea brands, Tazo Tea and Stash Tea. After discovering kombucha on one of his tea importing trips to Russia, Stephen launched Kombucha Wonder Drink in 2001. It can now be found in natural foods stores, grocery stores, pubs, spas, hotels, college campuses, and coffee and tea houses across the country. He also recently launched Tea Tibet, a not-for-profit tea company benefiting Tibet.
Praise For Kombucha Revolution: 75 Recipes for Homemade Brews, Fixers, Elixirs, and Mixers…
"Whether you're first hearing about kombucha right this second or you've been filling your fridge with it for years, spend ten minutes with Kombucha Revolution and you'll be leaping from your seat to try brewing it. Even as a longtime kombucha brewer myself, I found Stephen Lee's detailed recipes for making and using  kombucha to be eye-opening. He's doing things with kombucha that I never imagined, and I can't wait to try every single one of them."
—Emma Christensen, recipe editor at The Kitchn and author of True Brews