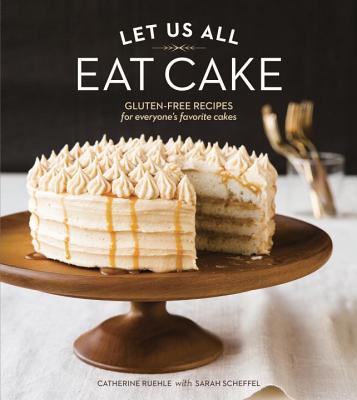 Let Us All Eat Cake (Hardcover)
Gluten-Free Recipes for Everyone's Favorite Cakes [A Baking Book]
Ten Speed Press, 9781607746294, 224pp.
Publication Date: September 9, 2014
* Individual store prices may vary.
Description
A delightful collection of gluten-free takes on your favorite cake recipes, from everyday coffee cakes, layered cakes, and cupcakes to show-stopping special occasion masterpieces.

Celebrate your favorite holidays and special occasions from birthdays to bake sales, Halloween to Christmas—and even the everyday—with delectable gluten-free cakes. In this delightful collection, Catherine Ruehle, a pastry chef and cake artist turned wellness foods chef, shares sixty classic cake recipes that are every bit as indulgent as the gluten-heavy ones we adore, but gluten-free, all-natural, and with alternatives given for vegan, dairy-free, and nut-free renditions. A few of the luscious cakes that await: Pink Velvet Strawberry Cake made electrifyingly pink with strawberries instead of food dye, Peanut Butter and Jelly Cupcakes that children of all ages will be thrilled to find in their lunchboxes, and a dramatic White and Dark Chocolate Checkerboard Cake that's a cinch to prepare in advance.

With positivity and careful guidance, Ruehle provides basic and advanced decorating, piping, and plating techniques to take your cakes from pretty to breathtaking. So go ahead: lick the frosting off the beaters, cut yourself a nice big slice, and let us all eat cake!

 
About the Author
CATHERINE RUEHLE is a renowned cake artist, pastry chef, television personality, certified holistic health coach, and wellness foods chef. She was the owner of Sublime Bakery and, after being diagnosed with rheumatoid arthritis, started her own health coaching company. Ruehle has been featured on Food Network, Style Network, WE Network, as well as in The New York Times and Los Angeles Times, among others.

SARAH SCHEFFEL is a cookbook editor currently enrolled at The Natural Gourmet Institute for Culinary Arts.
Praise For Let Us All Eat Cake: Gluten-Free Recipes for Everyone's Favorite Cakes [A Baking Book]…
"This is the perfect book of classic and sophisticated cakes that just happen to be gluten-free. From Boston Cream Pie to Bûche de Noël, you will find a cake for every occasion. As a former pastry chef, I cannot get enough." 
-Aran Goyoaga, creator of Cannelle et Vanille and author of Small Plates and Sweet Treats

"Catherine Ruehle has created a simple-to-follow book that addresses the many facets, traps, pitfalls, and substitutions of baking gluten-free layered cakes, cupcakes, celebration cakes, icings, and fillings. There are also some very handy tips for decorating these specialties. I would recommend this book to anyone who needs a helping hand navigating the tricky world of gluten-free baking."
-Kerry Vincent, Hall of Fame sugar artist, Oklahoma State Sugar Art Show director, and television personality

"As a long-standing chef and father of two sons living with diabetes, I understand the role food plays in both human health and enjoyment. This fantastic book offers both! The recipes are thoughtful, well constructed, and easy—greatly enhancing the fun factor of making cakes."
-Michel Nischan, chef and food equity advocate