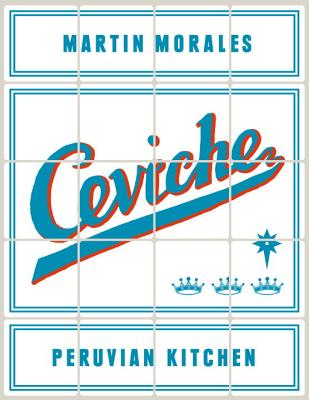 Ceviche (Hardcover)
Peruvian Kitchen: Authentic Recipes for Lomo Saltado, Anticuchos, Tiraditos, Alfajores, and Pisco Cocktails
Ten Speed Press, 9781607746416, 256pp.
Publication Date: May 27, 2014
* Individual store prices may vary.
Description
The first major Peruvian cookbook published for a US audience, featuring 100 recipes from the owner of London's critically acclaimed restaurant Ceviche.

Flavor-driven and captivating, Peruvian dishes are unique and familiar at the same time. This cuisine combines native ingredients that are becoming increasingly popular in their own right (such as quinoa and amaranth) with Spanish, Italian, Chinese, and Japanese techniques and ingredients to create fresh, multicultural gourmet dishes that appeal to America's ravenous taste for ethnic food. From sizzling barbecued beef anticucho skewers, superfood salads featuring quinoa and physalis, and piquant ceviche to airy giant choclo corn cakes and lucuma ice dessert, The Peruvian Kitchen will be the first authoritative cookbook to bring the delicious dishes from Peru's lush jungles, Andean peaks, and seaside villages to US kitchens.
About the Author
A cook since the age of 11, MARTIN MORALES was a founding member of Apple iTunes and Disney's youngest-ever board member (he launched Miley Cyrus and the Jonas Brothers as head of Disney Music). He opened Ceviche restaurant in Soho in February 2012 to wide acclaim: Time Out made it their Restaurant of the Week upon opening and named Morales's Don Ceviche recipe the top dish in London for 2012. Visit cevicheuk.com.
Praise For Ceviche: Peruvian Kitchen: Authentic Recipes for Lomo Saltado, Anticuchos, Tiraditos, Alfajores, and Pisco Cocktails…
WINNER, FOOD BOOK OF THE YEAR -The Sunday Times, UK

"Peruvians, as Paddington Bear fans will recall, like to keep their food under their hats. In Ceviche, Morales lifts the lid on his native cuisine, which is considered by Escoffier as among the best in the world. His book is a delight. Between stunning tiled covers, Morales sets off the eponymous delicacies of marinated raw fish with more comforting dishes, plus the frisky, pisco-based cocktails he serves at his restaurant in Soho. Not that these are tricky, chef-level recipes: it is mainly simple, homely stuff."
-The Sunday Times, UK
or
Not Currently Available for Direct Purchase