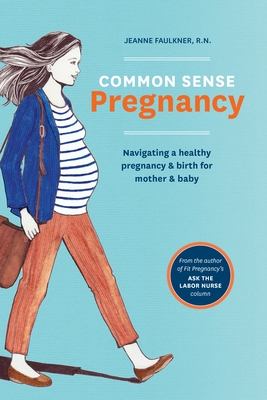 Common Sense Pregnancy (Paperback)
Navigating a Healthy Pregnancy and Birth for Mother and Baby
Ten Speed Press, 9781607746751, 256pp.
Publication Date: June 9, 2015
* Individual store prices may vary.
Description
Become a mama without the drama
 
When you're pregnant, your friends, the Internet, and even your doctor often give advice that leaves you anxious and overwhelmed. You deserve a calm, straightforward, no-nonsense pregnancy. It's time to dial down the stress and dial up the common sense. Common Sense Pregnancy is a breath of fresh air: accessible, authoritative, funny, reassuring, and personable, while still chock-full of comprehensive, medically-sound advice. Women's health expert, labor nurse, mother of four, and Fit Pregnancy.com columnist Jeanne Faulkner has been at the bedside for thousands of deliveries and provides the honest insider advice you need during pregnancy, labor, birth, and beyond, including straight talk on:
 
·      Which prenatal tests you actually need, and which you don't.
·      Who's on your labor team—and how to keep your labor room drama free.
·      What about sex?
·      How to deal with feeling lousy.
·      What works and what doesn't for starting labor naturally.
·      How to avoid unneces­sary and risky medical interventions.
 
Whether you want your pregnancy and birth to be all natural, all medical, or something in between, Common Sense Pregnancy eliminates the fear and puts you in charge of your body and prenatal experience, and helps you make the right choices for you and your baby.
About the Author
JEANNE FAULKNER has worked in women's health for 30 years, first in doctor's offices, free clinics, and classrooms and then as a registered nurse, specializing in obstetrics, labor and delivery, and neonatal care. She began her career as a journalist in 2002 and currently writes the weekly column Ask the Labor Nurse for FitPregnancy.com. She contributes articles about health, medicine, food, parenting, travel, and lifestyle issues to such publications as Fit Pregnancy, Pregnancy, Shape, Better Homes & Gardens, and the Huffington Post and Oregonian newspapers. She's also the senior writer/editor for Every Mother Counts, a global maternal health advocacy organization founded by Christy Turlington Burns.