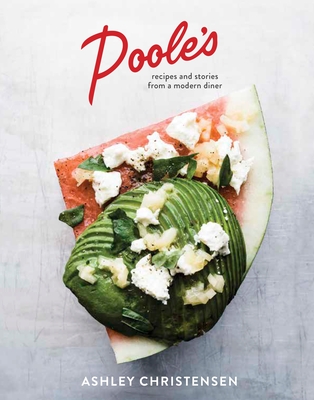 Poole's
Recipes and Stories from a Modern Diner [A Cookbook]
Hardcover

* Individual store prices may vary.
Description
From the James Beard Award–winning chef Ashley Christensen comes a bold and revelatory reinvention of Southern food, as told through the recipes and stories from her iconic and beloved restaurant, Poole's Diner. 

Ashley Christensen is the new face of Southern cooking, and her debut cookbook, Poole's, honors the traditions of this celebrated cuisine, while introducing a new vernacular—elevated simple side dishes spiked with complex vinaigrettes, meatless mains showcasing vibrant vegetables, and intensified flavors through a cadre of back-pocket recipes that will become indispensable in your kitchen. Recipes like Turnip Green Fritters with Whipped Tahini; Heirloom Tomatoes with Crushed Olives, Crispy Quinoa, and White Anchovy Dressing; and Warm Broccoli Salad with Cheddar and Bacon Vinaigrette share the menu with the definitive recipe for Pimento Cheese, a show-stopping Macaroni au Gratin, and crave-worthy Challah Bread Pudding with Whiskey Apples and Creme Fraiche, all redefining what comfort food can be.

Poole's is also the story of how Christensen opened a restaurant, and in the process energized Raleigh's downtown. By fostering a network of farmers, cooks, and guests, and taking care of her people by feeding them well, she built a powerful community around the restaurant. The cookbook is infused with Christensen's generous spirit and belief that great cooking is fundamental to good living.

With abundant, dramatically beautiful photography and a luxe presentation, Poole's is a landmark addition to the cookbook canon, a collection from which readers will cook and find inspiration, and pass down for generations to come.
Praise For Poole's: Recipes and Stories from a Modern Diner [A Cookbook]…
"When Ashley Christensen promises Poole's comfort food, I think she means food so delicious and generous in spirit, you almost overlook the effort behind it; dishes whose thoughtful sourcing and painstaking technique are expressed so seamlessly and humbly on the plate, your only obligation as a diner is to enjoy. That's not an easy thing for a chef to achieve. But here it is."
—DAN BARBER, Blue Hill and Blue Hill at Stone Barns

"Ashley Christensen does with food what Bob Dylan has done with song. She takes all the pieces we've come to understand in our life thus far—the ingredients, the familiar chords—and puts them together in a way that feels new, universal, and earth shaking, and yet somehow down-home. Having her food feels like church, sitting at the bar with best friends, and a history lesson all at once."
—JUSTIN VERNON of Bon Iver

"This is an inspiring peek into the incredibly full life that Ashley leads. We can all take away so many valuable things from this book, from the insanely delicious recipes to the way Ashley lives life on a daily basis. This is more than a cookbook, it's a life book."
—SEAN BROCK, McCrady's, Minero, and Husk

"Cauliflower soup with sulatanas, fried eggplant with burnt honey, rabbit poblano rellenos, and oysters rock-a-billy: the recipes here trip off your tongue and across your palate. Poole's is a catalog of great eats. It's also a work of sly philosophy, a meditation on community, and a celebration of the experiences that chefs and guests create together in those quicksilver moments when food and drink and good intentions converge at well-laid tables."
—JOHN T EDGE, co-author of Southern Foodways Alliance Community Cookbook

"We relate to the idea of the American diner because we find familiarity through that style of food, but Ashley Christensen has taken that notion, that essential piece of culinary identity, and created a magnificent temple to edible pleasure. This book is a superb and brilliant set of recipes and a marvelous story of the food we all want to eat. Poole's Diner is one of my favorite restaurants in the world and this book is your gateway to understanding why. Oh, and two words: Tomato Pie."
—ANDREW ZIMMERN, host of Bizarre Foods

"This book is just right. I want to eat at Poole's, drink at Poole's, meet all of Ashley's friends at the counter at Poole's. I want the white acre peas and the crispy flounder, and while we're at it, I want her dad's cold meatloaf sandwich. I hope she is very proud of the work. She should be."
—GABRIELLE HAMILTON, chef and author of Blood, Bones & Butter and Prune

"Ashley Christensen's restaurants—just like her personality—are beloved for their comforting, no-frills warmth, and for how seamlessly they express the fabric of her community. Poole's: Recipes and Stories from a Modern Diner is chockful of dishes that beg to be cooked, savored, and returned to again and again. I can't wait to get my fix next time I'm in Raleigh."
—DANNY MEYER, CEO of Union Square Hospitality Group

"Poole's reminds me of my favorite bistros and brasseries in Paris, the out-of-the-way places that thrive on real food and no hype, the beautiful yet simple little restaurants where the recipes are time-honored yet creative, the ingredients are not too far removed from the farm, the presentation is fun and never fussy, and the entire dining experience is an adventure that I think about long after the meal. Eating there is an absolute joy."
—JOHN GRISHAM, author

"If there were a Poole's in every state in America, I would be going on a never-ending road trip knowing that at the end of a long drive I would be guaranteed a delicious meal. Now the secrets—and delights—of Poole's Diner are in Ashley Christensen's terrific new cookbook. This is an excellent addition to your kitchen library, and you might want to drop off a gift copy at your local diner."
—NANCY SILVERTON, chef and author of The Mozza Cookbook
 
"The first two snacks, among the more than 100 recipes in this collection, are misleading: pimento cheese followed by deviled eggs might cause readers to think that this is another tome featuring good old Southern comfort food classics. But the James Beard Award–winning chef Christensen, owner of Poole's and six other eateries in Raleigh, N.C., quickly reverses course, steering head-on into the wilds of modern cuisine with fried eggplant with burnt honey aioli, and turnip green fritters with whipped tahini. Dynamic flavor and texture combinations highlight the salad section, which includes tangy options such as heirloom tomatoes with crushed olives, crispy quinoa, and white anchovy dressing. The vast breadth of a diner menu perhaps explains why a standard recipe for potato latkes turns up in the vegetable chapter, though they would certainly go well as an accompaniment to the Poole's steak, simply seasoned and served with a red wine pan sauce. Meanwhile, in his many full-color photos, Asheville photographer Johnny Autry shows a subtle appreciation for utensils: a thin knife tangential to a tomato pie, a school of seafood forks beside a bowl of mussels, and spoons and forks immersed in pork and dumplings."
- PUBLISHERS WEEKLY

"Chef Ashley Christensen revived Raleigh, NC's historic Poole's Diner in 2007, putting a modern, approachable spin on Southern classics. The simple, often whimsical, dishes in Poole's dazzle."
- COOKING LIGHT

"Raleigh's empire builder extraordinaire Ashley Christensen makes her cookbook debut, fittingly, with a chronicle of her very first restaurant, the acclaimed Poole's Diner. Expect recipes for gussied up Southern favorites and diner staples, whether pimento cheese, macaroni "au gratin," or for the gorgeous cover dish of watermelon, avocado, goat cheese, basil, and a sweet onion vinaigrette. Southern food lovers and restaurant obsessives alike will be eagerly awaiting this one."
- EATER NATIONAL

"Christensen's Southern restaurant empire runs seven deep, but at each additional restaurant, she doesn't let up on her commitment to local ingredients and Raleigh, North Carolina, appreciation. Her recipes, like the lively Poole's Diner itself, exude comfort and warmth. Which you'll find in the versatile chow chow, cornmeal-fried okra and dark chocolate pecan pie."
- TASTING TABLE

"If you're looking for inventive dishes and unique flavor combinations, then reach for Ashley Christensen's bold recipes. Her modern take on Southern food honors the traditional meals while incorporating new ingredients that take the flavors to a whole new level. Delight the senses with turnip green fritters with whipped tahini and warm broccoli salad with cheddar and bacon vinaigrette. It's a beautiful collection."
- MyDomaine.com

"Fine recipes that blend traditional Southern cooking with innovative twists, including dishes like turnip green fritters with whipped tahini, bread pudding made with challah, whiskey, apples, and creme fraiche, and her famous pimento cheese, inspired by her grand-godmother's original. With personal vignettes about opening the restaurant—a milestone that effectively help set off a culinary renaissance in the city—Poole's is more than a cookbook; it's a story of creating a vibrant community around fresh food."
- DEPARTURES

"Since making Raleigh, North Carolina, her home, chef Ashley Christensen has opened multiple restaurants there, but Poole's Diner was her first back in 2007. I've not had the pleasure of dining at Poole's, one of the South's most celebrated restaurants, but the cookbook has me wanting to try every single recipe in it. Part of Christensen's genius is starting with homey fare that we can all relate to and then elevating it to make it sound (and taste) better still."
- FINE COOKING

"Christensen is a North Carolina native, and her recipes paint a portrait of a hip, modern South."
- GARDEN & GUN

"Most cookbooks fall into one of two categories: the aspirational and the useful, those that are flipped through on lazy Sundays, then returned to the top shelf, and those that live a dog-eared life on the counter. With Poole's: Recipes and Stories from a Modern Diner, Ashley Christensen has written the rare cookbook that begs to be labeled as both."
- NEW YORK TIMES

"[Poole's] pulls the cooking and ethos of Christensen's diner, providing recipe after recipe for Southern comfort food. The book presents at a much higher level than you might expect, with the gorgeous photography and glossy pages of a fine dining restaurant cookbook. The incommensurateness works well: We quickly understand that though this is a diner in the South, the techniques and ingredients are first-rate, that Christensen's recipe for cornmeal-fried okra with Tabasco mayo, say, or pork ribs with mustard sorghum sauce, requires the same honesty and care as any dish coming out of any classic French kitchen, New York bistro or L.A. farm-to-table restaurant."
- LOS ANGELES TIMES
Ten Speed Press, 9781607746874, 304pp.
Publication Date: September 20, 2016
About the Author
ASHLEY CHRISTENSEN is the chef and owner of seven restaurants—Poole's Diner, Beasley's Chicken + Honey, Chuck's, Fox Liquor Bar, Joule Coffee & Table, Death & Taxes, and Bridge Club—all located in downtown Raleigh, North Carolina. Ashley's cooking and her philosophy of bright, fresh flavors and locally grown, seasonal ingredients have garnered local and national acclaim. Ashley is involved in a number of charities, including the Frankie Lemmon Foundation, the Southern Foodways Alliance, and Share Our Strength. In 2014, Ashley was awarded the James Beard Award for Best Chef Southeast.