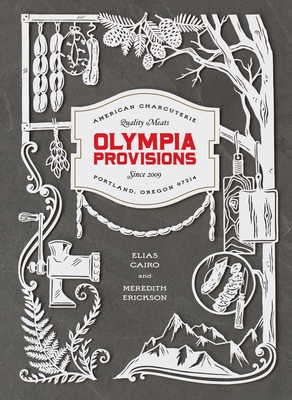 Olympia Provisions (Hardcover)
Cured Meats and Tales from an American Charcuterie
Ten Speed Press, 9781607747017, 288pp.
Publication Date: October 27, 2015
* Individual store prices may vary.
Description
A rigorous exploration of what American charcuterie is today from Portland's top-notch meat company, featuring in-depth techniques for crafting cured meats, recipes from the company's two restaurants, and essays revealing the history and personalities behind the brand.

Portland's Olympia Provisions began as Oregon's first USDA-certified salumeria, but it has grown into a mini-empire, with two bustling restaurants and charcuterie shipping out daily to all fifty states. In his debut cookbook, salumist and co-owner Elias Cairo dives deep into his distinctly American charcuterie, offering step-by-step recipes for confits, pâtés, sausages, salami, and more. But that is only the beginning. Writer Meredith Erickson takes you beyond cured meat, exploring how Cairo's proud Greek-American upbringing, Swiss cooking adventures, and intense love affair with the outdoors have all contributed to Olympia Provisions' singular—and delicious—point of view. With recipes from the restaurants, as well as extensive wine notes and nineteen frankfurter variations, Olympia Provisions redefines what American charcuterie can be.
About the Author
ELIAS CAIRO is a co-owner and the lead salumist at Portland, Oregon's, Olympia Provisions, which he founded in 2009. Born in Salt Lake City to a Greek family who butchered lamb and goats utilizing Old World preparations and technique, Cairo started cooking at a young age in his father's restaurants. He began a European apprenticeship in Switzerland at the age of twenty, where he learned classic butchery and charcuterie from renowned chef Annegret Schlumpf before moving to Portland to open Olympia Provisions. 

MEREDITH ERICKSON has written for the New York Times, Elle, the National Post, Monocle, and Lucky Peach. She has also worked as an editor and production manager for various magazines, campaigns, and television programs, and was the editor of The Family Meal by Ferran Adria. She is co-author with David McMillan and Frédéric Morin of the James Beard–nominated book The Art of Living According to Joe Beef, as well as Le Pigeon with Gabriel Rucker. She lives in London.
Praise For Olympia Provisions: Cured Meats and Tales from an American Charcuterie…
"Being French, I know how important well-done charcuterie is to everyday life. Olympia Provisions is a wonderful journey through the simple yet complex recipes that have made it a craft throughout time. Visually stunning and conversationally informative with personal stories, notes, and tips, it is a tribute to charcuterie's versatility and cultural prowess, and the restaurant recipes only make me hungry for more."
—Daniel Boulud, chef/owner, The Dinex Group

"Portland's Olympia Provisions has been making some of America's best charcuterie for years. Elias Cairo is the man behind it, and he has written a book that explains not only how he has been creating this food, but the whys that make it so good. This is a great resource for anyone who wants to explore the craft of charcuterie, with fabulous recipes and gorgeous photography."
—Michael Ruhlman, James Beard award–winning author of Ruhlman's Twenty and Charcuterie

"Olympia Provisions is so much more than a charcuterie, just as its cookbook is so much more than simply a collection of recipes. It's a love letter to the craft of curing, smoking, and fermenting; a passionate family story, rich in history, technique, humor, and lots of good food. Elias Cairo's utter adoration for cured meat is not only inspiring, it's infectious!"
—Gail Simmons, food expert, TV host, and author of Talking with My Mouth Full