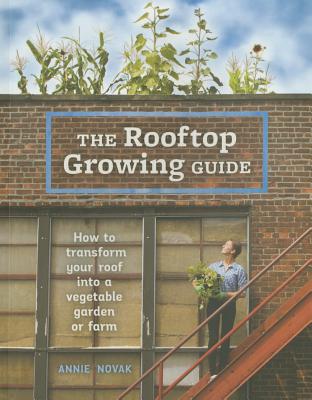 The Rooftop Growing Guide (Paperback)
How to Transform Your Roof into a Vegetable Garden or Farm
Ten Speed Press, 9781607747086, 256pp.
Publication Date: February 16, 2016
* Individual store prices may vary.
Description
If you'd like to grow your own food but don't think you have the space, look up! In urban and suburban areas across the country, farms and gardens are growing atop the rooftops of residential and commercial buildings.

In this accessible guide, author Annie Novak's passion shines as she draws on her experience as a pioneering sky-high farmer to teach best practices for raising vegetables, herbs, flowers, and trees. The book also includes interviews, expert essays, and farm and garden profiles from across the country, so you'll find advice that works no matter where you live. Featuring the brass tacks on green roofs, container gardening, hydroponics, greenhouse growing, crop planning, pest management, harvesting tips, and more, The Rooftop Growing Guide will have you reimagining the possibilities of your own skyline.
About the Author
Annie Novak is the head farmer and cofounder of the nation's first commercial green roof vegetable farm, the Eagle Street Rooftop Farm atop Broadway Stages in Brooklyn. She is the manager of the Edible Academy at the New York Botanical Garden, and founder and director of Growing Chefs, a field-to-fork food education program. She lives in New York City.
Praise For The Rooftop Growing Guide: How to Transform Your Roof into a Vegetable Garden or Farm…
As seen in the New York Times, Better Homes and Gardens, San Francisco Chronicle, Modern Farmer, Edible Brooklyn, Organic Life, City Lab-Atlantic Magazine, and Design*Sponge

"Novak's prose is clear, warm and accessible. No space is wasted in her garden, and it's the same in her book, where every page is packed with information…Her book is also a terrific introduction to farming in Any Yard, U.S.A."
—New York Times Book Review

"With The Rooftop Growing Guide, Annie Novak has given us a blueprint to reimagine thousands of underutilized acres in urban environments. In a book that reflects her own creativity, intellectual curiosity, and experience, she provides both inspiration and detailed, practical guidance to create farms in the sky."
— Will Allen, MacArthur fellow and author of The Good Food Revolution

" Annie Novak explores every imaginable detail of how to turn any community's acres of unused rooftops into deliciously productive gardens. This book has already become an invaluable resource to our restaurant crew as we search for new ways to expand our rooftop production."
— Rick Bayless, chef/owner of Frontera Grill, Topolobampo, and XOCO Chicago

"The Rooftop Growing Guide is filled with essential information about how to grow food on the alien plains of building tops. What makes it so much more than a how-to guide are the gorgeous photographs proving it can all be done, and the prose passages that make clear the wisdom and joyousness with which Novak embraces her work."
— Joan Gussow, professor and author of This Organic Life