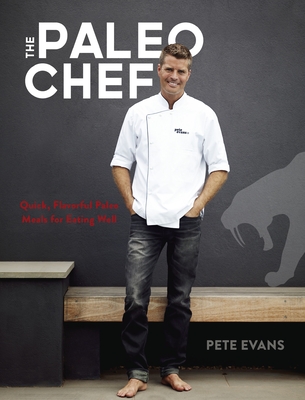 The Paleo Chef
Quick, Flavorful Paleo Meals for Eating Well [A Cookbook]
Hardcover

* Individual store prices may vary.
Other Editions of This Title:
Hardcover (1/15/2015)
Description
Acclaimed international chef and television personality Pete Evans takes a whole new approach to making gluten-free, grain-free, and dairy-free, completely Paleo recipes that are worthy of a restaurant but effortless to prepare. 

More and more people are discovering the health benefits of the Paleo lifestyle by cutting out processed, sugary foods and instead eating quality proteins and fats, fresh vegetables and fruits, and nuts and seeds. However, following this way of eating doesn't mean sacrificing flavor or spending a long time in the kitchen. In The Paleo Chef, Evans provides more than 100 recipes for gorgeous food that is satisfying, distinctive, and good for you, including Kale Hummus, Vietnamese Chicken Wings, and Key Lime Tart.

Each and every one of Evans's innovative recipes pops with flavor and is brought to life with stunning, full-color photography. Living—and eating—the Paleo lifestyle has never been so effortless and so delicious.
Praise For The Paleo Chef: Quick, Flavorful Paleo Meals for Eating Well [A Cookbook]…
"Pete Evans emphasizes the deep significance of what we put into our bodies in his new cookbook, The Paleo Chef. His recipes educate us about a way of eating in accordance with our physical, emotional, and spiritual needs. This beautiful book takes the mystery out of the confusing topic of what to eat to be free of wheat, gluten, grain, refined sugar, and dairy. It empowers the reader to create truly divine, nourishing, and wholesome meals with grace and ease." 
—Joshua Rosenthal, founder and director of the Institute for Integrative Nutrition 

"The Paleo Chef is one of the first Paleo cookbooks written by a chef, and it shows. The unique, mouthwatering recipes and gorgeous food photography won't just motivate you to eat Paleo, it will inspire you to be a better cook. If you're tired of the typical Paleo cookbook fare and ready to step up your game in the kitchen, this is the book for you!" 
—Chris Kresser, author of the New York Times bestseller Your Personal Paleo Code

"Pete does an amazing job of making nutritious taste delicious with inventive recipes that satisfy our natural cravings for good nutrition." 
—Leslie Embersits, founding director of the Mindd Foundation

"If you're looking to consciously create food made with love and respect, and simultaneously create health while dazzling your taste buds, this vibrant book is for you. Pete's latest Paleo-inspired cookbook is brimming with delicious, nutritious, and sustainable recipes that will nourish your physical, mental, and emotional well-being. This is the perfect guide for your culinary journey." 
—Dr. Frank Lipman, founder and director of Eleven-Eleven Wellness Center

"In The Paleo Chef, Pete Evans brings gourmet flair and Aussie verve to the world of Paleo cooking. You'll love browsing this book for the gorgeous photos and creative food combinations. Best of all, the food tastes great!" 
—Dr. Paul Jaminet, PhD, author of Perfect Health Diet and editor-in-chief of Journal of Evolution and Health

"Pete Evans brings to the table an incredible array of delectable recipes that will satisfy anyone who recognizes the importance of maintaining a Paleo diet. Beyond delicious, The Paleo Chef adheres to the tenants of what our most cutting-edge researchers are revealing to be the most healthful approach to human nutrition." 
—Dr. David Perlmutter, MD, FACN, author of #1 New York Times bestseller Grain Brain

"I've seen plenty of cookbooks that adhere to a low-carb, Paleo, grain-free lifestyle. But Chef Pete Evans's new cookbook is a game-changer, raising the standard to a higher, more elegant level. Beautifully photographed and rich with his signature style, this cookbook takes the lifestyle of the health conscious from just eating to that of epicure."  
—William Davis, MD, author of #1 New York Times bestsellers Wheat Belly and The Wheat Belly Cookbook

"Ever wonder what kind of Paleo dishes an internationally acclaimed chef might prepare? Wonder no more. The Paleo Chef brilliantly combines Pete's passion for real food with his sophisticated, flavor-first approach to cooking. Best of all, the ravishing meals in these pages were designed for home cooks, making them a cinch to prepare in your own kitchen. This book is brimming with delicious inspiration, and deserves a permanent place
on your counter." 
—Michelle Tam, author of the New York Times bestseller Nom Nom Paleo

"Although the Paleo movement is busting at the seams with cookbooks, The Paleo Chef is singularly gorgeous and unique. Even avowed low-carb enthusiasts (such as myself) will find a plethora of mouthwatering options to enjoy here. Now if I can only convince Pete to become my personal chef . . ."
—Nora Gedgaudas, CNS, CNT, author of Primal Body, Primal Mind
Ten Speed Press, 9781607747437, 224pp.
Publication Date: December 30, 2014
About the Author
PETE EVANS is an award-winning international chef, restaurateur, author, television presenter, adventure seeker, and father. Pete recently made his U.S. debut as host of The Moveable Feast on PBS. He has authored seven internationally successful cookbooks and has contributed to such publications as Fine Cooking magazine. As a graduate of New York's Institute for Integrative Nutrition, a health coach, and an enthusiastic supporter of the Paleo movement, Pete's mission is to revolutionize the way we eat and live. Visit www.peteevans.com.au.
or
Not Currently Available for Direct Purchase