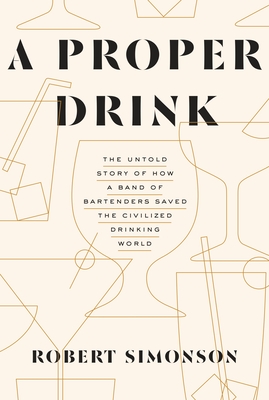 A Proper Drink
The Untold Story of How a Band of Bartenders Saved the Civilized Drinking World [A Cocktails Book]
Hardcover

* Individual store prices may vary.
Description
A narrative history of the craft cocktail renaissance, written by a New York Times cocktail writer and one of the foremost experts on the subject.

A Proper Drink is the first-ever book to tell the full, unflinching story of the contemporary craft cocktail revival. Award-winning writer Robert Simonson interviewed more than 200 key players from around the world, and the result is a rollicking (if slightly tipsy) story of the characters—bars, bartenders, patrons, and visionaries—who in the last 25 years have changed the course of modern drink-making. The book also features a curated list of about 40 cocktails—25 modern classics, plus an additional 15 to 20 rediscovered classics and classic contenders—to emerge from the movement.
Praise For A Proper Drink: The Untold Story of How a Band of Bartenders Saved the Civilized Drinking World [A Cocktails Book]…
"A smart, engaging, and fine chronicle of how far we've come as a drinking nation. Best enjoyed with a cocktail in hand."
—Christopher Buckley, author of Thank You for Smoking and Wry Martinis
 
"This spirited study of the craft cocktail renaissance sheds light on a determined culture that is every bit as colorful—and at least as intoxicating—as that of food and wine. Cheers to Robert Simonson for this riveting and thirst-inspiring accomplishment."
—Danny Meyer, CEO of Union Square Hospitality Group and founder of Shake Shack
 
"A candid and entertaining look at the tastemakers, bars, and spirits that have made your drinks so damn good over the last twenty years. Robert Simonson is a brilliant writer and an intrepid reporter, with a quick wit and a gift for language. This book is a fascinating chronicle of failed business deals, unlikely successes, and dedication to craft that has changed how America drinks—for the better."
—Amy Stewart, author of The Drunken Botanist

"[A] brilliant new book […] anyone, anywhere calling themselves a bartender should feel duty-bound to read."
 —Alexander Barlow, DRiNK Magazine

"Over the last dozen years, much of the action in American culinary arts has transpired behind the bar. Robert Simonson captures this extended historical moment, when we moved toward a more thoughtful approach to drinking and, by extension, living."
–Brett Anderson, restaurant critic for the Times-Picayune
 
"If you want to understand why you're drinking a cocktail called 'Are You
Figsperienced?' and not, say, yet another Fuzzy Navel, Robert Simonson's wide-
ranging, deftly characterized A Proper Drink is an essential place to start."
—David Wondrich, author of Imbibe! and Punch

"Simonson does an admirable job of getting his arms around an ever-morphing subject, showing how a single bar or bartender can have a butterfly effect in an industry that's constantly evolving. No matter which side of the bar readers are on, they're sure to work up a powerful thirst."
—Publishers Weekly

"From prominent drinks writer Robert Simonson comes an answer to the question all cocktail lovers have asked themselves: How did we end up with a craft cocktail revival, anyway? Simonson dives head first into this question and interviews over 200 movers, shakers (forgive me), and doers in the 25-year march to better cocktails. While this book leans more toward cultural history than a barman's how-to, Simonson does offer a list of 40 cocktails that epitomize the craft movement as we now know it."
—Hillary Dixler, Eater

"Simonson adds to his already impressive collection of books (and an app) with this explainer of the current booming craft cocktail scene, which starts with T.G.I. Friday's and ends with current hubs like Pegu Club and Smuggler's Cove."
—Abby Reisner, Tasting Table

"[...] what sets the season apart is the number of new books that already feel iconic—from Robert Simonson's expertly reported narrative history of the cocktail renaissance, A Proper Drink [...] Perhaps the best narrative book on cocktails and their attendant culture since William Grimes' forward-looking 1993 book, Straight Up or On the Rocks, this is firstly, drinks aside, simply a great story—an exhaustively researched tale of how we got from sour mix to the neo-speakeasy, all propped up by Simonson's obvious narrative gifts."
—PUNCH

"With insight and often unflinching candor, Simonson weaves a boozy tale of the revived cultural phenomenon. And should you find yourself thirsty along the way, a few dozen recipes are included for good measure." 
—Penelope Bass, Imbibe

"... for an excellent, extensively detailed explanation [of 'the explosion of well-stirred booze in the modern American bar'], I highly recommend Robert Simonson's book, A Proper Drink."
—Kevin Alexander, Thrillist
 
Ten Speed Press, 9781607747543, 352pp.
Publication Date: September 20, 2016
About the Author
ROBERT SIMONSON is a cocktail and drinks writer for the New York Times, a six-time Tales of the Cocktail Spirited Award nominee, and the author of The Old-Fashioned. One of the leading authorities on spirits and cocktail culture in the United States, he also writes for Wine Spectator, Wine Enthusiast, Imbibe, Edible Manhattan, Edible Brooklyn, Saveur, Eater, PUNCH, and more.
or
Not Currently Available for Direct Purchase