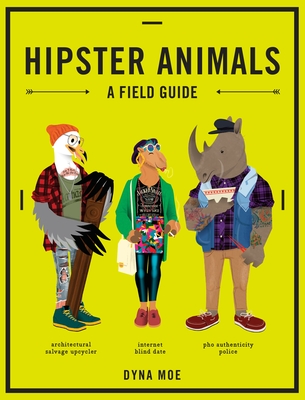 Hipster Animals (Paperback)
A Field Guide
Ten Speed Press, 9781607747918, 112pp.
Publication Date: September 22, 2015
* Individual store prices may vary.
Description
 A field guide to scenesters, trend-hoppers, and other cutting-edge species you've like, probably never heard of. They're pretty obscure.
 
 An illustrated pocket guide to the hip characters populating "cool neighborhoods" across America, Hipster Animals helps readers identify these urban wildlife in their natural habitats. Including details on the creatures' identifying characteristics, diets, mating behavior, and calls, this parody reference guide provides a snarky glimpse into the foreign—yet all too familiar—world of the trendsetters among us.
About the Author
An illustrator and comedy writer, DYNA MOE lives in the semi-hip neighborhood of the East Village, conveniently located between the Lower East Side (hippest neighborhood, late 90s) and Williamsburg, Brooklyn (hippest neighborhood, 2000s). Part of the first generation of performers at the Upright Citizens Brigade, she has written, directed, and taught comedy for more than 15 years. As an illustrator, she has drawn for a vast array of fashion designers, record companies, and media in print and online.
Praise For Hipster Animals: A Field Guide…
"Dyna Moe was one of my earliest comedy influences and teachers, and every time I see her work I am equally blown away and jealous that it is not of me, which is something I know I need to work on. I love this book because it shows hipsters for exactly what they truly are: disgusting animals."
— Adam Pally, actor, Happy Endings and The Mindy Project

"When I look at Dyna's art, I feel deeply unsettled, which makes me feel right at home. It's like Jumanji meets Girls."
— Lennon Parham, co-creator and star of Playing House

"I've always known Dyna Moe to be a rabble rouser and a genius. No one else I know has the ability to take adorable animals and turn them into a subversive and hilarious commentary on modern youth culture."
— Chris Gethard, comedian, writer, and cult leader

 "Finally, a book with pictures that I don't have to feel embarrassed to be caught reading."
— Paul Scheer, actor, The League and Fresh Off the Boat