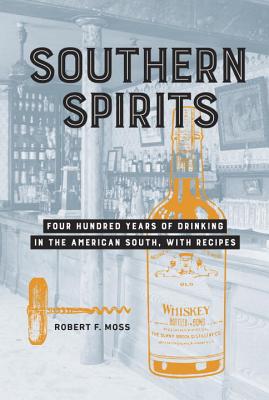 Southern Spirits (Hardcover)
Four Hundred Years of Drinking in the American South, with Recipes
Ten Speed Press, 9781607748670, 320pp.
Publication Date: April 12, 2016
* Individual store prices may vary.
Description
A captivating narrative history that traces liquor, beer, and wine drinking in the American South, including 40 cocktail recipes.

Ask almost anyone to name a uniquely Southern drink, and bourbon and mint juleps--perhaps moonshine--are about the only beverages that come up. But what about rye whiskey, Madeira wine, and fine imported Cognac? Or peach brandy, applejack, and lager beer? At various times in the past, these drinks were as likely to be found at the Southern bar as barrel-aged bourbon and raw corn likker. The image of genteel planters in white suits sipping mint juleps on the veranda is a myth that never was--the true picture is far more complex and fascinating. Southern Spirits is the first book to tell the full story of liquor, beer, and wine in the American South. This story is deeply intertwined with the region, from the period when British colonists found themselves stranded in a new world without their native beer, to the 21st century, when classic spirits and cocktails of the pre-Prohibition South have come back into vogue. Along the way, the book challenges the stereotypes of Southern drinking culture, including the ubiquity of bourbon and the geographic definition of the South itself, and reveals how that culture has shaped the South and America as a whole.
About the Author
ROBERT F. MOSS is a food and drinks writer and culinary historian living in Charleston, South Carolina. He is the Contributing Barbecue Editor for Southern Living and the Southern Food Correspondent for Serious Eats. He is a frequent contributor to the Charleston City Paper, and his work has also appeared in publications such as Garden & Gun, the Los Angeles Times, the Charlotte Observer, Texas Monthly, the Columbia Free Times, and Early American Life.

Robert is the author of The Barbecue Lover's Carolinas, a guide to the restaurants, recipes, and traditions of barbecue in North and South Carolina; Barbecue: The History of an American Institution, the first full length history of barbecue in the United States; and Going Lardcore: Adventures in New Southern Dining, a collection of essays about dining in the modern South.

A native of Greenville, South Carolina, Robert attended Furman University and received a Ph.D. in English from the University of South Carolina.
Praise For Southern Spirits: Four Hundred Years of Drinking in the American South, with Recipes…
Southern Spirits is a broadly inclusive, meticulously researched, and beautifully written examination of a unique and uniquely important part of American culinary culture, and one that has not received enough serious attention from drink historians or historians of Southern foodways. This book should remedy that."
– David Wondrich, author of Imbibe! and Punch
 
"This is a fascinating read that deserves a prominent place on the bookshelves of anyone with an interest in our drinking culture, so much of which was born in the South."
– Gary Regan, author of The Negroni, and The Joy of Mixology
 
"Southern Spirits adds a welcome and impeccably detailed chapter to the somewhat tattered history of drinking in America. From Caribbean rum imports through Madeira and the julep and on to Pappy Van Winkle, Moss deftly parses what we drank and why. I won't lie: this book made me very thirsty."
 – Wayne Curtis, author of And a Bottle of Rum: A History of the New World in 10 Cocktails
 
"In Southern Spirits, Robert F. Moss chronicles centuries of spirited traditions and debunks boozy tall tales in this defining look at the way Southerners have influenced the way we imbibe as a nation."
– Brad Thomas Parsons, author of Bitters: A Spirited History of a Classic Cure-All
 
"In Southern Spirits, Robert F. Moss joins a hallowed cadre of mixographers including Daniel Okrent, Wayne Curtis, and David Wondrich who've carefully charted how our drinking habits and history aren't just intertwined: they're a reflection of each other.  For Americans, and Southerners in particular, perhaps we are what we drink even more than what we eat?"
– Jim Meehan, author of The PDT Cocktail Book
 
"Just as a proper sazerac requires an absinthe rinse, America now requires context with its cocktails. Robert F. Moss slakes our cultural and historical thirst in a book that broadens and deepens our understanding of what, why, and how my people drink. From Revolutionary war hero Francis Marion, who couldn't hold his Madeira, to the Kentucky julep fabulist Irvin S. Cobb, Moss has assembled a rogue's gallery of characters, who unspool telling stories of the tippling South."
– John T Edge, co-editor The Southern Foodways Alliance Community Cookbook 

"Four hundred years of drinking distilled into almost as many pages, Southern Spirits looks at the history of a culturally rich region through the lens of its drinking habits. Lest you write it off as just another book about bourbon, Moss is quick to clear up the myth that Southern drinking is limited to the brown stuff, with the likes of rum, Madeira, brandy, cider and more all seeing starring roles. History buffs and cocktail nerds alike will delight in the thorough tome, which is sprinkled throughout with recipes that have stood the test of time."
- Punch

"Dispel that image of a fine Southern gentlemen and his lady sipping mint juleps on their veranda and get prepared to hear the true story of drinking in the American South."
- The Literary South

"Southern Spirits isn't just a cocktail recipe book—this is a cocktail book with in-depth reportage about the American South's cocktail culture and the history behind its most iconic spirits, with recipes to boot. Written by the contributing barbecue editor forSouthern Living and Southern food correspondent for Serious Eats, historian Robert Moss proves that there's more to the South than just bourbon and juleps. Dive in and you'll find yourself reading about everything from Madeira wine to peach brandy."
- Saveur