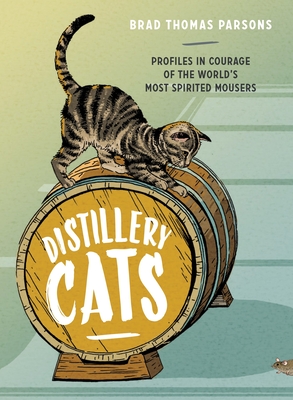 Distillery Cats
Profiles in Courage of the World's Most Spirited Mousers
Hardcover

* Individual store prices may vary.
Description
Distillery Cats contains the whimsical tales of working cats in distilleries around the world, with charming illustrations of the beloved mousers.

Distillery Cats cheekily tells the tale of the historical role of these spirited cats and their evolution from organic pest control to current brand ambassadors. James Beard Award-winning author (and noted cat enthusiast) Brad Thomas Parsons profiles 30 of the world's most adorable and lovable distillery cats, featuring "interviews," a hand-drawn portrait of each cat, plus trading card-style stat sheets with figures like "super-power" and "mice killed." Featuring 15 cocktail recipes to enjoy while you page through, Distillery Cats is a quirky but essential addition to any cat or spirits lover's bookshelf.
Praise For Distillery Cats: Profiles in Courage of the World's Most Spirited Mousers…
"Brad's reporting on distillery cats actually moved me to take a tour of Scottish distilleries, microphone in hand, to meet some of the mousers in person. (And sample some of the product.) It was a hardship assignment, and I couldn't keep at it for long. I am relieved to know that Brad has remained committed to the mission."
—Ari Shapiro, host of NPR's All Things Considered

"The Best Food Book of the Year [...] Award-winning drinks writer Brad Thomas Parsons put together a collection of the country's most distinguished cats in a hilariously illustrated book that belongs on your shelf next to the Modernist Cuisine box set. [...] So do yourself a favor for once and pick up this book. It has everything! Cats, beer, whiskey, love lost and found, journeys of self discovery and redemption, heroes and villains, tabbies and gingers, hell, even a few scratches on the head. If you're looking for more than that in a book, good luck finding it."
—Alex Beggs, Bon Appetit

"Cats + Booze! Brad Thomas Parsons has channeled his inner cat lady to discover the ultimate formula for happiness."
—Kerry Diamond, Cherry Bombe

"Cats! Cool illustrations! Great stories! Cocktail recipes! What's not to love about this book? Did I mention cats?"
—Andy Ricker, chef/owner of Pok Pok

"From shipyards to book-stores, there's a storied tradition of employing cats in the workforce. In his new release, Brad Parsons sheds light on the distillery cats, charged with the safe-keeping of expensive grain at craft distilleries and breweries across the country. Nowadays, they're more than mere workers--the felines have evolved into social media darlings, at times amassing a larger following than the distillery."
—The Local Palate

"Parsons, the sharp author of Bitters and Amaro, clearly understands that the conceit is what it is, but he's slyly found meta-stories behind the various cat profiles: brewers and distillers, mensches that they are, are not only willing to adopt strays and shelter cats but could also teach Andrew Lloyd Webber a thing about naming of cats (Daryl Hall, Old Horatio). And you'll likely discover a lot more distilleries around the country (Port Chester, N.Y., Nashville, Tenn.) than most of us know. Beyond that? Look, it's a book about cats. But Parsons throws some not-obvious cocktail recipes to sweeten the pot, rendering this a new classic of a very particular genre."
—PUNCH

"At BevCon in Charleston this year, the most buzzed-about new book among spirits professionals was Distillery Cats by Brad Thomas Parsons (Amaro, Bitters), which is darn cute, yes, but there's plenty of history behind the practice as well as important reasons for having a cat live at your bar, brewery or distillery."
—Amy Cavanaugh, Plate
Ten Speed Press, 9781607748977, 112pp.
Publication Date: September 19, 2017
About the Author
Brad Thomas Parsons is the author of Amaro: The Spirited World of Bittersweet, Herbal Liqueurs and Bitters: A Spirited History of a Classic Cure-All, which was the winner of the James Beard and IACP Cookbook Awards, and a finalist for the Tales of the Cocktail Spirited Awards. Parsons received an MFA in writing from Columbia University, and his work has appeared in Bon Appétit, Lucky Peach, Food & Wine, Travel + Leisure, Punch, and more. He lives in Brooklyn, New York. Visit www.btparsons.com.