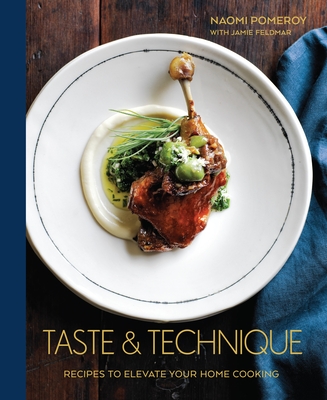 Taste & Technique
Recipes to Elevate Your Home Cooking [A Cookbook]
Hardcover

* Individual store prices may vary.
Description
James Beard Award-winning and self-made chef Naomi Pomeroy's debut cookbook, featuring nearly 140 lesson-driven recipes designed to improve the home cook's understanding of professional techniques and flavor combinations in order to produce simple, but show-stopping meals.

Naomi Pomeroy knows that the best recipes are the ones that make you a better cook. A twenty-year veteran chef with four restaurants to her name, she learned her trade not in fancy culinary schools but by reading cookbooks. From Madeleine Kamman and Charlie Trotter to Alice Waters and Gray Kunz, Naomi cooked her way through the classics, studying French technique, learning how to shop for produce, and mastering balance, acidity, and seasoning.
 
In Taste & Technique, Naomi shares her hard-won knowledge, passion, and experience along with nearly 140 recipes that outline the fundamentals of cooking. By paring back complex dishes to the building-block techniques used to create them, Naomi takes you through each recipe step by step, distilling detailed culinary information to reveal the simple methods chefs use to get professional results.
 
Recipes for sauces, starters, salads, vegetables, and desserts can be mixed and matched with poultry, beef, lamb, seafood, and egg dishes to create show-stopping meals all year round. Practice braising and searing with a Milk-Braised Pork Shoulder, then pair it with Orange-Caraway Glazed Carrots in the springtime or Caramelized Delicata Squash in the winter. Prepare an impressive Herbed Leg of Lamb for a holiday gathering, and accompany it with Spring Pea Risotto or Blistered Cauliflower with Anchovy, Garlic, and Chile Flakes.
 
With detailed sections on ingredients, equipment, and techniques, this inspiring, beautifully photographed guide demystifies the hows and whys of cooking and gives you the confidence and know-how to become a masterful cook.
Praise For Taste & Technique: Recipes to Elevate Your Home Cooking [A Cookbook]…
"From the enthralling and honest introduction to the enticing recipes, Naomi Pomeroy's debut cookbook is simply outstanding. The recipes are so thoroughly written, it's like Naomi is in your kitchen guiding you to success." 
—NANCY SILVERTON

"I believe the true essence of a chef is to be totally in tune with her inner muse. That is Naomi Pomeroy in a nutshell. Naomi's self-taught confidence will inspire any cook to use this cookbook until it gets tattered, splattered, and torn—truly the sign of a great chef's work." 
—JONATHAN WAXMAN

"Naomi reminds me in this book why French country cooking is so great and why I love it so much. She nails clever variations on classics with good instruction—and makes me want to make those pork chops!" 
—ANDREW CARMELLINI

"A good cookbook embodies the chef's personality and approach to food and life. This book is like Naomi's restaurant Beast—each page brims with her passion for cooking in the Pacific Northwest." 
—MICHAEL TUSK

"Anything from the magnificent Chef Pomeroy is worth getting immediately—but this latest, in particular, is a must-have." 
—ANTHONY BOURDAIN

"No matter what level of home cook you are, Naomi's humble, detailed, and positive approach to cooking provides an encouraging perspective on learning how to cook her soulful cuisine. She adds personal touches that will help any good home cook be creative with dishes they can independently call their own."
—DANIEL BOULUD 

"Pomeroy's highly recommended debut is a beautiful guide to creating and improvising memorable meals."
—Library Journal 

"[Pomeroy's] debut cookbook offers home cooks a superb arsenal of methods and elegant, do-able dishes designed to increase competence, confidence, and cooking pleasure."
—Publishers Weekly

"Pomeroy shows you how to master basic chef skills like sauces and stocks, so you can move on to master clear-as-can-be consommé. The Portland chef also does the impossible, making homemade puff pastry approachable."
— Tasting Table 

""Like many high-caliber chefs, Pomeroy's savvy derives from a sophisticated approach to flavor…"
 — Eater

"Self-taught, award-winning chef Pomeroy, brings a masterful pleasure of cooking to home kitchens by using elaborate building-block recipes."
- Alaska Airlines Magazine 

"There is much to learn here, and much great food to make,the sort of classical dishes that deserve aspiration."
- Los Angeles Times 

"A beautiful handbook for any cook looking to up his or her game."
- San Francisco Chronicle

"This is my five-star pick of the year, the cookbook I suspect will define my cooking in 2017, and so want to say a little more about why. On the surface, you might think that this is just another one of those fancy, cheffy cookbooks that's mostly about brand and ego, with no clue about the challenges a home cook faces. You might think that because those books are often really beautiful with high production values and this book is like that, too: sophisticated layout, glossy pages, gorgeous photography. But start at the beginning and slowly page through and you will start to see that these recipes are doable — very doable. Simple, elegant, but not overly refined, this cookbook inspires rather than thrills; it impresses rather than boasts."
- THE KITCHN

"This is a big book with big photos and big ideas. . . This is serious cooking, mind you, but presented in gorgeous color by a serious, self-trained cook."
- MILK STREET KITCHEN MAGAZINE 
Ten Speed Press, 9781607748991, 400pp.
Publication Date: September 13, 2016
About the Author
Naomi Pomeroy won the James Beard Award for Best Chef Pacific Northwest in 2014, was named a Best New Chef 
in Food & Wine in 2009, and has been featured in Bon Appétit, Elle, and O magazine, along with appearances on Top Chef Masters and Knife Fight. After launching Family Supper, clarklewis, and Gotham Tavern, she opened Beast in 2007 and her bar Expatriate in 2013. She lives in Portland, Oregon.