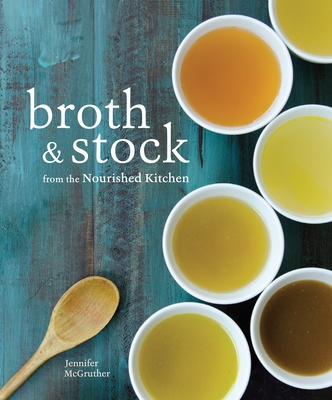 Broth and Stock from the Nourished Kitchen
Wholesome Master Recipes for Bone, Vegetable, and Seafood Broths and Meals to Make with Them [A Cookbook]
Paperback

* Individual store prices may vary.
Description
A good broth or stock is the foundation of wholesome cooking. From the author of The Nourished Kitchen, come over a dozen master recipes for base stocks, plus forty recipes using these stocks in complete meals.  

Broths and stocks have always had a central place in kitchens around the world owing to their ability to comfort, nourish, and heal. In Broth and Stock from the Nourished Kitchen, Jennifer McGruther, an authority in the traditional foods movement, shares accessible recipes that are appropriate for vegetarians, pescatarians, and meat eaters alike and showcase the nutrient-dense, real food that nourishes the body and soul. The Whole Chicken Broth is the perfect base for Springtime Risotto with Asparagus, Green Garlic, and Chive Blossoms, while the recipe for Fish Stock will bring new life to a classic dish like New England Clam Chowder. People are catching on to this centuries old appreciation of bone and vegetable based broths, and Jennifer McGruther shows how these can be made quickly and cost-effectively at home.
Praise For Broth and Stock from the Nourished Kitchen: Wholesome Master Recipes for Bone, Vegetable, and Seafood Broths and Meals to Make with Them [A Cookbook]…
"This is a most beautiful book to look at and to read, and it's a courageous one, too, for as the author herself says, 'making broth is an experience in delayed gratification,' not something we have much experience with today. But this patient tending of the pot which makes full use all the ingredients we bring into our kitchens, is perhaps just what's needed to foster mindfulness, deliciousness and health. I love the promise and stillness of Broth and Stock from the Nourished Kitchen."
— Deborah Madison, author of Vegetable Literacy


"Many people have been starting to discover the health benefits of simple, basic broth, and discovering how much richness and complexity it can add to any dish. Broth and Stock from the Nourished Kitchen will help you discover the wisdom of your grandparents' approach to eating and will get you thinking about what you can do with broth. Even the most experienced cook will be inspired to create something new."
— Anya Fernald, CEO and Co-Founder of Belcampo Meat Co. and author of Home Cooked
Ten Speed Press, 9781607749318, 192pp.
Publication Date: May 31, 2016
About the Author

Jennifer McGruther is a food educator, the creator of the award-winning traditional foods website, Nourished Kitchen (www.nourishedkitchen.com) and the author of The Nourished Kitchen. She teaches workshops on traditional foods, fermentation, as well as food activism. Jennifer lives with her husband and
son in Washington State.