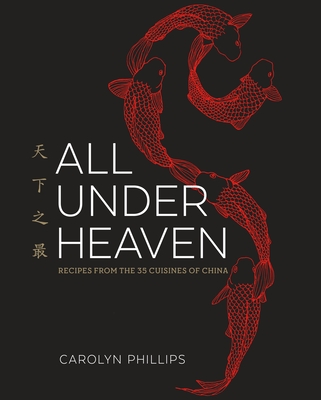 All Under Heaven
Recipes from the 35 Cuisines of China [A Cookbook]
Hardcover

* Individual store prices may vary.
Description
A comprehensive, contemporary portrait of China's culinary landscape and the geography and history that has shaped it, with more than 300 recipes.

Vaulting from ancient taverns near the Yangtze River to banquet halls in modern Taipei, All Under Heaven is the first cookbook in English to examine all 35 cuisines of China. Drawing on centuries' worth of culinary texts, as well as her own years working, eating, and cooking in Taiwan, Carolyn Phillips has written a spirited, symphonic love letter to the flavors and textures of Chinese cuisine. With hundreds of recipes--from simple Fried Green Onion Noodles to Lotus-Wrapped Spicy Rice Crumb Pork--written with clear, step-by-step instructions, All Under Heaven serves as both a handbook for the novice and a source of inspiration for the veteran chef.

— Los Angeles Times: Favorite Cookbooks of 2016
Praise For All Under Heaven: Recipes from the 35 Cuisines of China [A Cookbook]…
2017 JAMES BEARD FOUNDATION BOOK AWARD NOMINEE: INTERNATIONAL

James Beard Foundation Book Awards

"The vastness and complexity of the many cuisines of China would be daunting to anyone yet Carolyn Phillips has produced a monumental work. Scholarly, comprehensive, based on thorough research yet seasoned with her own insights of an ancient civilization rediscovering and exploring its own culinary history, this is bound to become a classic on the subject and part of the foundation of any serious cook's reference library."
—DAVID KINCH, author of Manresa

"Carolyn Phillips brings a bold new voice to the subject of Chinese cooking. All Under Heaven is the result of a lifetime passion and fascination with Chinese cuisine. Many of the recipes are not for a novice cook but it's an impressive read even if you never cook a single recipe. An added bonus is the author's charming illustrations."
— GRACE YOUNG, author of Stir-Frying to the Sky's Edge

"Packed with 300-plus recipes (e.g., abalone shreds with mung bean sprouts, bitter melons in golden sand, lotus-wrapped spicy rice crumb pork), this unprecedented reference will thrill cooks who want to expand their knowledge and move beyond the mainstays of American Chinese restaurant menus. Those who enjoy the thoroughly researched cookbooks of experts such as Claudia Roden (The New Book of Middle Eastern Food) will appreciate Phillips's comprehensive treatment, which includes historical information, an extensive ingredient glossary, suggested menus, and useful advice."
— Library Journal, Starred Review

"[A] comprehensive and thoughtful examination of Chinese cuisine, providing a wealth of appealing recipes for beginner and advanced cooks."
— Publishers Weekly

"All Under Heaven follows the illustrated tradition of books like Shizuo Tsuji's Japanese Cooking: A Simple Art and Julia Child's Mastering the Art of French Cooking, and therein lies its strength. Ms. Phillips's simple line drawings cover everything from pulling noodles to removing pig hairs. It's almost as good as watching over the chef's shoulder."
— The New York Times

Favorite Cookbooks of Fall 2016
— Los Angeles Times

"There's no denying Phillips has done her research, delving into 35 Chinese cuisines in admirable depth. "
— Tasting Table

"Organized by regions beginning with a background of that area, Phillips heart and soul can be felt in every word. The book is massive but perfectly laid out with stark white pages, easy to follow instructions with maps and drawings that speaks to her story. She highlights extra information to perfect each dish in red font after each recipe. It is as if she is in the kitchen with us working beside us to make sure we achieve the best results. ...This book is sure to be this year's best cookbook, I have no doubt."
— The Cookbook Junkies

"Is This the Best Chinese Cookbook Ever Written?"
— Epicurious

"'All Under Heaven' is an accessible overview separating Chinese cuisine into five culinary regions. It's perfect for the starter Chinese cook."
— Wall Street Journal 

"It's magnificent, a reference on the eight traditional Chinese cuisines, with 300 recipes. But at the same time you'll enjoy her clever subtitles, side references to James Bond, and friendly tips on how to cook, including how to stand while chopping."
— Dianne Jacob 

"Carolyn Phillips' 'All Under Heaven' is at once as heavy as a doorstop and as ethereal as a proper Chinese dumpling. A Mandarin scholar who married into a Chinese family, Phillips spent years mastering her adopted cuisine, and it shows in every recipe and line drawing, which she renders in her own hand with considerable elegance."
— Atlanta Journal-Constitution

"This book is a work of great passion that rewards on so many levels. Every recipe I tried was excellent, there is a wealth of information that will keep your mind occupied for years, and the personality of the author shines through."
— Leite's Culinaria

"Phillips never stops pushing the limits of her own vast knowledge, and you can really tell that a lifetime of expertise went into this, because this is a book that cooks with all its heart and soul."
— T. Susan Chang, The Level Teaspoon

"The charming illustrations were drawn by Phillips and even though there's not a photograph in sight, her writing and very clearly written recipes will make you want to cook your way through China, and this book."
— NPRs Here and Now

"Drawing from ancient culinary texts as well as her own experience, Carolyn Phillips created a spirited, symphonic love letter to China's flavors and textures — from simple fried green onion noodles to lotus-wrapped spicy rice crumb pork. It's both a handbook for novices and inspiration for veteran cooks."
— Chowhound 

"Rigorously researched and deliciously annotated, the heavy black volume may seem as foreboding as the Great Wall. But do not be intimidated, dear comrade: The charms within are considerable, and Phillips makes the material accessible to American audiences. This is not a book to be scanned, but one to be held in your lap for hours on end. It is magnificent, and it will make you very, very hungry."
— Atlanta Journal-Constitution

"[S]tunning and massive . . . an incredibly rich roadmap to Chinese dishes."
— Munchies

The Forty Best Cookbooks of 2016 -- #1 (tie)
— Eat Your Books

"An inspiring, enlightening necessity for food enthusiasts everywhere."
 — Shelf Awareness
Ten Speed Press, 9781607749820, 528pp.
Publication Date: August 30, 2016
About the Author
Carolyn Phillips is a food writer, scholar, artist, and author of The Dim Sum Field Guide: A Taxonomy of Dumplings, Buns, Meats, Sweets, and Other Specialties of the Chinese Teahouse. Her work has appeared in numerous places, including Best Food Writing 2015, Lucky Peach, Gastronomica, BuzzFeed, Alimentum, Huffington Post, Zester Daily, Food52, and at the 2013 MAD Symposium in Copenhagen, as well as in her weekly blog, Madame Huang's Kitchen (MadameHuang.com). She can be found on Twitter as @madamehuang and on Instagram as @therealmadamehuang. 

Carolyn's art has appeared everywhere from museums and galleries to various magazines and journals to Nickelodeon's Supah Ninjas series. She was a professional Mandarin interpreter in the federal and state courts for over a decade, and she and her husband recently acted as cultural consultants for the third Ghostbusters movie (2016). She lived in Taiwan for eight years, has translated countless books and articles, and married into a Chinese family more than thirty years ago.