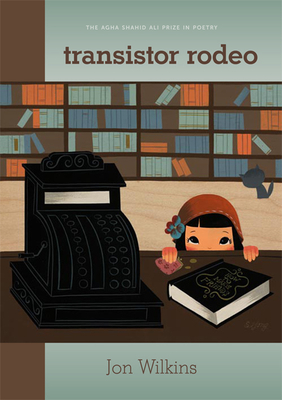 Transistor Rodeo (Agha Shahid Ali Prize in Poetry) (Paperback)
University of Utah Press, 9781607810025, 80pp.
Publication Date: April 15, 2010
* Individual store prices may vary.
Description
The annual Agha Shahid Ali Prize in Poetry was inaugurated in 2003 to honor the late poet, a nationally recognized writer and former professor at the University of Utah, and is sponsored by the University of Utah Press and the University of Utah Department of English. Transistor Rodeo was selected as the 2009 prize-winning volume by judge Ander Monson, poet, essayist, author of The Available World and Vanishing Point, and editor of DIAGRAM.
About the Author
Jon Wilkins is a professor at the Santa Fe Institute. His poetry has been published in Colorado Review, Denver Quarterly, Mobius, The Midday Moon, River King Poetry Supplement, Harvard Advocate, Georgia Poetry Review, Abbey, Chaffin Journal, and Moon Reader.
Praise For Transistor Rodeo (Agha Shahid Ali Prize in Poetry)…
"More than a prize-winning collection of poetry, Transistor Rodeo provides readers with a sharp view of ordinary life. Throughout the collection, Jon Wilkins creates a world in each poem that is vivid and earnest. Through his light, yet sharp and strikingly analytical verse, Wilkins's poems allow readers to stop and readjust long enough to notice life's invisible landscape and emotional grain."—Apalachee Review
"First off you need to know how much fun Jon Wilkins's Transistor Rodeo is: a whole lot, a thousand afternoons of brainy, brawling, fragrant, dazzling microscopic daisies. Very few books deliver as much electricity per line, per poem, as this one does, and fewer still can sustain that charge until, crackling, imagination flashes and gives way to beauty. Whether prayer or sonnet, parable, love song, or theorem, or frequently more than one of these, a Wilkins poem ambles and darts, hesitates, notices its surroundings, changes direction, exults, and delivers us into an entirely new place. Are we changed by reading this? I think we are. Wilkins is an alchemist. Wilkins should be your alchemist."—Ander Monson, poet and essayist
or
Not Currently Available for Direct Purchase