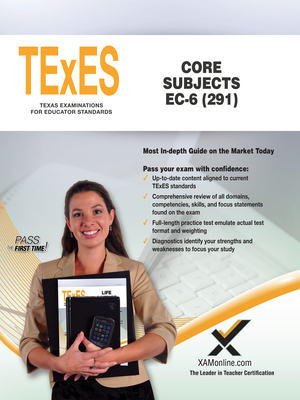 TExES Core Subjects Ec-6 (291) (Paperback)
Xamonline.com, 9781607876731, 782pp.
Publication Date: June 29, 2018
Other Editions of This Title:
Paperback (10/15/2015)
Paperback (10/15/2015)
* Individual store prices may vary.
Description
The major difference between the Generalist and a Core Subject tests is that the Core Subject tests have enough questions within each core content area to provide a valid and reliable measure of each of the core content areas assessed. Additionally, each subject area will have its own passing score. The EC‐6 test went from 140 to 267 questions. The five‐hour time limit remained the same for the test. The number of items were increased in order to provide reliability in score reporting for each of the core subjects assessed. Each core subject area has its own passing score and required more items to provide reliability of classifying candidates into passed/not passed categories. There are 3 full new competencies (Vocabulary Development; Reading, Inquiry, and Research; Writing Conventions) in ELA with 33 new skills; 10 new skills in Math; 9 new skills in Social Studies; 1 new competency (History and Nature of Science) with 11 new skills in Science; and 3 new skills in Art, Music, Health, Physical Education, and Theater.