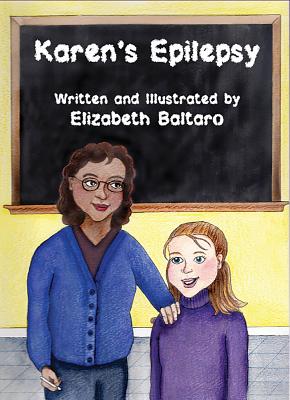 Karen's Epilepsy
Paperback

* Individual store prices may vary.
Description
Written and illustrated by a high school student with epilepsy, Karen's Epilepsy is a 28-page story about a girl with complex-partial seizures. When Karen's family moves to a new city, she wonders if her new classmates will befriend her despite her differences. Karen struggles with her own self-acceptance until something unexpected happens. Written with elementary school students in mind, this heart-warming story speaks to both children and adults. With reassuring words and pictures Baltaro communicates a hopeful message of friendship, confidence, and determination.
BQB Publishing, 9781608080151, 30pp.
Publication Date: July 1, 2015
About the Author
While writing this story, Elizabeth Baltaro was a high school student in Oklahoma. At age nine, Elizabeth began hearing things that were not there, seeing funny colored lights and "losing" a minute or two from her daily activities. She was experiencing simple partial and complex partial seizures—the most common types of seizures. These "funny" experiences continued to increase until Elizabeth's epilepsy was finally diagnosed at age 12 when she experienced several convulsive (or tonic-clonic) seizures. With medication she did not have any more convulsive seizures, but she did continue to have partial seizures until age 15 when she and her doctor finally found medications that would completely control her epilepsy. After her diagnosis at age twelve, Elizabeth and her family set out to learn as much as they could about her epilepsy. They learned from the resources of the Epilepsy Foundation of America. However, Elizabeth did not find any books for children about partial seizures, or as she put it, "my kind of epilepsy." Inspired by her mother who began to teach seizure first aid as a local volunteer, Elizabeth dreamed of creating such a book herself. This dream grew into her Girl Scout Gold Award project. Elizabeth developed her story and illustrations with help from her Girl Scout Leader, Carol Slaughter, and art teacher, Judy Samter. After this book's initial publication, Elizabeth graduated from medical school and became a practicing primary care physician. She is also the mother of twins.


or
Not Currently Available for Direct Purchase