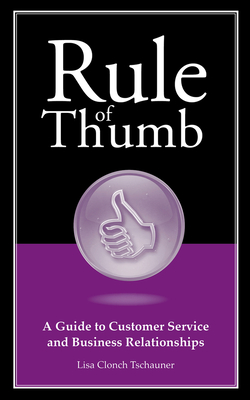 Rule of Thumb (Paperback)
A Guide to Customer Service (Rule of Thumb Series)
WriteLife Publishing, 9781608080663, 118pp.
Publication Date: August 1, 2012
* Individual store prices may vary.
Description
Rule of Thumb: A Guide to Communication for Small Business Owners and Managers is an introductory guide for first-time entrepreneurs and small business owners seeking to gain a basic understanding of identifying and adopting effective communication skills. Just how important are effective communication skills? The answer is critically important, especially in the professional world. Employer surveys consistently reveal the importance of effective communication skills for securing a job, as well as for job performance, career advancement and the overall success of a business. Good communication reflects directly on the company, creating trust and presenting a professional image to build better business relationships. No one is born an excellent communicator. Excellent communication skills are learned and anyone can learn the skills to communicate effectively in both written and oral messages. This book provides basic information to help you improve both written and oral communication skills. It shows you how to be kind to your readers by making what you've written interesting and easy to understand. Keep it clear. Keep it simple. Keep it to the point.
About the Author
Lisa Clonch Tschauner is the author of Rule of Thumb: A Small Business Guide to Customer Service and Relationships (WriteLife, 2012) and is the owner of Dynamic Concepts. An Instructor of Entrepreneurship and Business at Central Community College, Lisa coordinates the Entrepreneurship Center at Central Community College. She is well-versed in communication theory as well as applicable methods and is an active public speaker. Lisa has authored books, articles and worked on many research projects. She also volunteers on local and state coalitions and boards. Tschauner lives in Central Nebraska with her husband, and two teenage children.


or
Not Currently Available for Direct Purchase