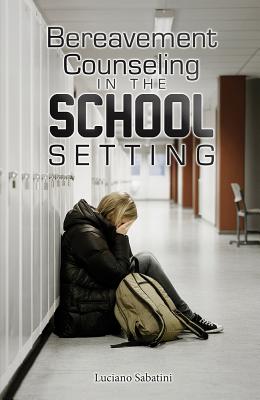 Bereavement Counseling in the School Setting
Paperback

* Individual store prices may vary.
Description
We are a death phobic society. Consequently, we provide very little help to our citizens in dealing with the one common denominator that we all face, the death of those we love.

The paucity of death education programs in our elementary and secondary schools is evident of our death avoidance culture. Although many of our schools do attempt to assist the thousands of children and adolescents yearly who lose parents, siblings, and other loved ones, their efforts tend to focus on how to assist the newly bereaved student in the days immediately following the loss. Very few schools have a long term approach that extends far beyond the immediate crisis, seeking to assist students with the life altering changes that follow the death of a family member.

Dr. Luciano Sabatini, a former school counselor and director of guidance, offers a guide to school based professionals, especially those involved in crisis counseling, on how to assist students through crisis intervention teams, educational awareness and support groups. He shares his experiences in working with bereaved students and what he has learned from them in coming to terms with a devastating loss. He also offers school leaders best practices in supporting grieving students and in managing a school grieving the death of a student.
Praise For Bereavement Counseling in the School Setting…
"Well laid out and ordered book. Going into detail with facts and figures relating to the clients. Following and the process to help these clients with well thought out and tried elements which can and will be put into practice." – Brian Jeff (Librarian) for NetGalley

"This is very informative… I wish myself and a few of my friends had this kind of support in school." – Misty Eilar for NetGalley
WriteLife Publishing, 9781608080724, 114pp.
Publication Date: December 1, 2012
About the Author
Years after enduring a painful divorce that left her life and that of her kids in shambles, Karen found the courage and insight to take what she knew best—architecture—and apply the same creative AP to rebuilding her life. That inspired idea changed everything. By rebuilding her life, she found clarity, inspiration, and a newly defined purposed. She built for herself a life inspired. Soon, she was sharing the process she had gone through with others who weren't architects and finding that it worked for them as well. Motivated by her newfound insight and purpose, Karen created a website, workshops, and wrote the book Be the Architect of Your Life: Design, Build, and Start Living a Life Inspired.


or
Not Currently Available for Direct Purchase