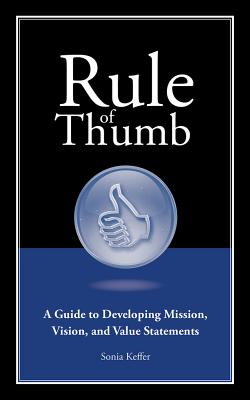 Rule of Thumb (Paperback)
A Guide to Developing Mission, Vision, and Value Statements (Rule of Thumb Series)
Boutique of Quality Books, 9781608081028, 106pp.
Publication Date: April 1, 2014
* Individual store prices may vary.
Description
Your company's Vision statement is not just a grouping of words in a pretty frame that greets visitors as they enter your business. Each part of a company's Vision, the Value, Vision, and Mission statement are powerful statements of purpose each organization, just starting out or established, need in order to secure loyal customers, committed shareholders, and the best employees possible. Whether you are starting a new business endeavor or have an existing company this guide presents a clear, easy to follow, and comprehensive process for developing and using your organization's mission, vision, and value statements.
About the Author
Sonia Keffer has been developing and facilitating employee-training workshops for seventeen years. A main focus of Sonia s work is the internal motivation that is necessary for all of us to be truly successful. Being passionate about her work she enjoys bringing new ideas to all levels of employees and seeing the spark ignite in someone when they understand how to incorporate a new concept into their own personal or professional life. Her training sessions are high energy and interactive which allow for maximum participation and learning. Sonia has been fortunate enough to work across the United States with such organizations as The County of Orange, California, the City and County of San Francisco, Stearns-Benton Workforce Center and On With Life. In Omaha, Nebraska, Sonia has worked with such terrific organizations as Fashion Cleaners, Omaha Public Schools, Omaha Tri-county Workforce Development, Henningsen Foods, Inc., SOCAP, PVPL, the Nebraska Art Council, the Nebraska Shakespeare Festival and NAM."